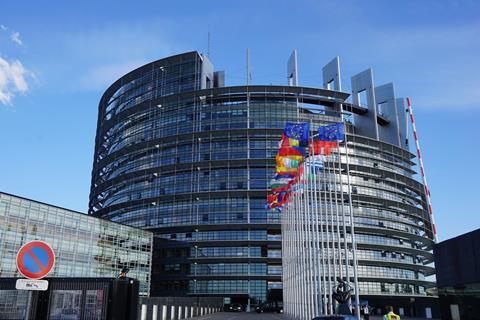 Update: The European Union's controversial Copyright Directive in the Digital Single Market has now been approved in a decisive vote by the European Parliament.
Original story: The European Union's controversial Copyright Directive heads towards a decisive vote in the European Parliament in Strasbourg on Tuesday (March 26), after a rocky five years in the making.
"These reforms are essential to ensure creative professionals from across Europe are fairly remunerated for their work in the digital age. If they don't go through it will be a catastrophe," Cécile Despringre, director of the Brussels-based Society of Audiovisual Authors (SAA), told Screen on the eve of the vote.
If the vote is negative it will put the directive on hold for an indefinite period because there will not be enough time to re-negotiate its terms ahead of European Parliamentary elections in May which could see a radically different set of deputies taking seats.
"A negative vote would essentially signal the end of this directive," confirmed Despringre.
SAA is among a number of bodies representing film and TV professionals lobbying for the reforms, aimed at updating 20-year-old, pre-digital era legislation, alongside the Federation of European Film Directors (FERA), the Federation of Screenwriters in Europe (FSE), France's Society of Authors and Composers of Dramatic Works (SACD) and Directors UK.
These bodies have also joined some 230 other organisations representing creatives from across Europe under the banner of the #Yes2Copyright movement in recent weeks. Open letters supporting the new directive have been sent thick and fast.
"There has been an unprecedented coming together of artists from across Europe and the professional bodies representing them in favour of the new directive," said Despringre.
Will the reforms be passed?
Tuesday's vote is the final hurdle for Copyright Directive after ambassadors from most of the 28 EU states agreed on a draft directive in February. Countries not supporting the reforms comprised the Netherlands, Italy, Poland, Luxembourg and Finland while Slovenia and Belgium abstained.
It follows a rollercoaster ride for the reforms which have been at the heart of a fierce lobbying campaign, pitting those who believe the reforms are essential to ensure creatives are properly paid for their work against a US tech giant-led lobby which claims they pose a threat to the internet and freedom of expression.
Much of the media coverage and debate has focused on article 11, aimed at ensuring tech giants such as Google and Facebook pay for media content driving users to their platforms through a so-called 'link tax', and article 13, which makes the tech giants and digital players responsible for copyright infringements on their sites.
However the key articles for cinema professionals are articles 14 to 16, which acknowledge the contribution of creators in the value chain and call for greater transparency in revenue reporting as well as the introduction of so-called 'best-seller' legislation across Europe.This latter mechanism is aimed at ensuring those creators whose work makes more revenue than expected are not cut out of the profits by contracts based on lower projections. It is already enshrined in the copyright laws of a handful of European territories, notably Germany.
Andrew Chowns, CEO of Directors UK, is a staunch supporter of the reforms. He suggested a vote against the reforms in Strasbourg last July had been brought about by a heavy lobbying campaign by the tech giants.
"US tech giants, particularly Google, bombarded MEPs with material which was against the directive and scandalously misinformed," he said.
A counter-lobbying campaign and tweaks to the bill over the summer resulted in a positive vote in favour of the reforms last September.
Despringre says she and her counterparts at other professional bodies have been working hard to talk to deputies on an individual basis. "We've been going deputy by deputy, focusing especially those who seem hesitant in the face of reports in the mainstream press that the reforms threaten internet freedom," she said.
She noted the countries where there was most resistance to the reforms were the Czech Republic, Hungary and Poland.
"There's a lot in the media and on the social networks in these countries about how it will kill the internet and freedom of expression," explained Despringre.
She added the US tech giants appeared to be taking a more targeted approach in terms of who it was lobbying about the vote this time around.
"I think they've left French deputies alone because they know their minds are made up but we're hearing that deputies for Germany – where there is stronger opposition to the directive – are still being targeted pretty hard," she said.
Despringre remains cautiously optimistic the directive will be passed although she is ready for any outcome. "There's a majority for it to go through but we have a saying in France, 'don't sell the bearskin before you've shot it'. We remain cautious and are not crying victory yet."
If the vote goes through, the directive effectively goes into force immediately. The next step will be ensuring EU member states adopt the directive and set up frameworks for the reforms to come into effect.
"Members will have two years to put it into action. That is where the real work will begin," said Despringre.
UK position
Chowns said his body - which represents some 7,000 film and TV directors - would push for UK legislation to align with the reforms, whatever the outcome of the Brexit debacle.
"If the UK does agree a [Brexit] deal – whether that is Theresa May's deal or another deal - there will be an implementation period and the UK would pass into law any EU directives that were passed during that period," he said.
In the event there was no deal, Chowns said legislators would find there was "vast consensus" within the UK screen industries in favour of the copyright reforms proposed by the directive to be incorporated into UK law.
"British legislators would find all their British taxpayers, companies and businesses saying, you should pass this directive into UK law," said Chowns. "Even if there were voices coming from across the Atlantic saying don't do it, I'm pretty sure I know on which side our British legislators will fall."
Chowns added the beauty of the new directive was that it had been formulated so that EU states could reach its objective in ways that were in tune with their local film and TV ecosystems, either by creating statuary schemes or leaving it to professional bodies to set up collective agreements with producers and broadcasters.
He noted the directive would provide a welcome framework for an agreement on director remuneration with the UK's Producer Alliance for Cinema and Television (PACT).
"It's one of the obvious benefits for us of having this directive. It will, at last, enable us to have something that applies to films directors and remuneration for the use of their work – there's nothing weird or radical about it – it is taking us down a well-trodden path," he said.