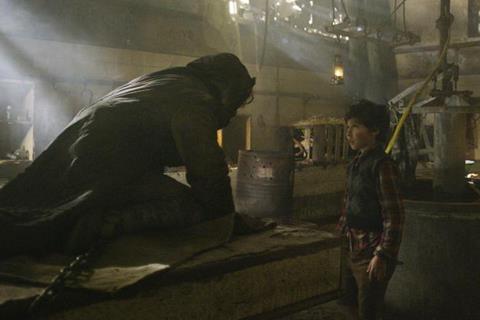 International festival programmers are sitting up and paying attention to the rise in genre cinema by Arab and African filmmakers.
Mati Diop's genre-bending drama Atlantics wowed Cannes Competition earlier this year, with Algerian psychological drama Abou Leila screening in Cannes Critics Week and Tunisian horror film Dachra for Venice Critics' Week in 2018.
A group of filmmakers gathered to discuss their routes into genre filmmaking at a panel talk 'Unearthing the Fantastic' held during the Atlas Workshops of the Marrkech International Film Festival last week.
"I'm a product of the 80s. I'm part of that video club generation who grew up watching mostly American movies," said Moroccan director Talal Selhami of his film Achoura, which has played the international festival circuit this year, winning a special mention at the Sitges Film Festival in October.
"It was very natural to me to come to fantasy and horror," he expained. "In a way, I hate the term 'genre'. It's a big bag… the western is a genre, horror is genre and comedy is a genre too."
Achoura is about group of youngsters who embark on a search for their friend who goes missing when they explore a derelict haunted house. It is due to go on release in Morocco in March. It may also get a theatrical release in France via Orange Studio which partnered on the film alongside Selhami's Overlook Films and Moroccan producer Lamia Chraibi's Moon & Deal Films.
Selhami said one of his biggest challenges was convincing people that it was possible to make a mainstream horror thriller out of the Arab world.
"There was no economic model. There was nothing to base it on," he said.
He also had to fight expectations of what an Arab genre movie might look like. "That was disturbing. One person involved in the project told me it was not exotic enough. That made me more determined to be as far as possible from the cliché of what's expected of an Arab movie."
He suggested festivals had a tendency to expect Arab films to have some sort of social element and were not ready for genre films out of the Middle East and North Africa.
Citing directors lPaul Verhoeven, David Cronenberg and John Carpenter, whose films "appealed to a wide audience but often carried a more personal, intellectual message", Selhami said Arab world filmmakers should appropriate genre filmmaking to tell their own stories.
"For me genre, is a huge tool box that can enable you tell a story in a very smart way," he said.
Challenging preconceptions
London-based Palestinian artist Larissa Sansour said her use of sci-fi codes in her short art films A Space Exodus, Nation Estate and most recently In Vitro was a deliberate and conscious move.
She started making films in 2002, having previously focused on painting and sculpture. In the backdrop, the Middle East crisis had flared up following the failure of the Oslo Accords, the launch of the second Palestinian Intifada and retaliatory incursions and re-occupation of the Palestinian territories by Israeli forces.
"Back then, a lot of Palestinians felt the need to work with a documentary based approach. It was necessary at the time because it felt that we needed to document and preserve what was about to be lost," she said. "I was also part of that wave. I felt the Palestinian cities, as we knew them, were about to disappear."
Over time, however, Sansour said she came to feel this style put filmmakers at a disadvantage.
"It kind of categorises you as people belonging to a third world country that cannot use a language that is apparently preserved for the Western world," she explained.
"Defying all these expectations became very important. The fact my films are very high budget is a part of the formal aspect of my work. It's a must. I'm not running away from social-political issues but I am framing them in what you could call a science fiction, or dystopian type of framework."
The director was at the Atlas Workshops with ambitious project Heirloom, which she is co-directing with Danish partner and long-time collaborator Soren Lind.
Set against the backdrop of a post eco-apocalyptic Bethlehem, it revolves around a cloned, thirty-something scientist charged with completing a scientific mission to replant a high-tech underground orchard, aimed at reversing the ecological disaster.
Palmyre Badinier at Geneva-based Akka Films is lead producing. Backers so far include the Arab Fund for Art and Culture (AFAC) and the Doha Film Institute (DFI).
Literary parallels
In the same panel, Beirut-based writer and translater Lina Mounzer gave a brief overview of a parallel dystopian novels scene, which has blossomed in the region over the past decade.
She talked about titles like Palestinian-Jordanian Ibrahim Nasrallah's 2018 novel The Second War Of The Dog, set in an unnamed country where an ISIS-like group has risen to power, and Iraqi writer and filmmaker Ahmed Saadawi's Frankenstein In Baghdad, set against the backdrop of the Iraqi capital in the aftermath of the 2003 US invasion of Iraq.
She noted genre was not new phenomenon in Arabic literature, citing a number of genre classics, including the horror and science fiction books of late Egyptian author Ahmed Khaled Tawfik. A set of his paranormal novels are being adapted into a TV series by Egyptian producer Mohamed Hefzy at Cairo-based Film Clinic and director Amr Salama, in the role of showrunner, in partnership with Netflix.
Cultural differences
In a separate talk on Dakar-set drama Atlantics, exploring the legacy of a lost generation of Senegalese men who tried cross the Atlantic to Spain in small boats, French-Senegalese director Mati Diop revealed that she had taken inspiration from Andrei Tarkovsky's Solaris and John Carpenter's The Fog as she grappled with how to represent the haunting, psychological presence of the male characters lost at sea.
She revealed, however, that the supernatural elements of the film were not perceived as belonging to a tradition of genre by audiences back in Senegal, where a belief in spirits remains embedded in contemporary culture.
"People there didn't see it as a fantasy. Unlike in the West, not a single journalist there referred to it as a genre film," she said.
It was a concept reiterated in a later panel about writing programmes in MENA and Africa by Egyptian filmmaker Ayman El Amir who coordinates the genre-focused script development programme the Dahshur Workshops, held in an artists' retreat an hour's drive from Cairo
"Genre is a good vehicle for exploring more complex, psychological subtexts," he said. "Egypt is full of abundant and rich stories that are ideal for genre."