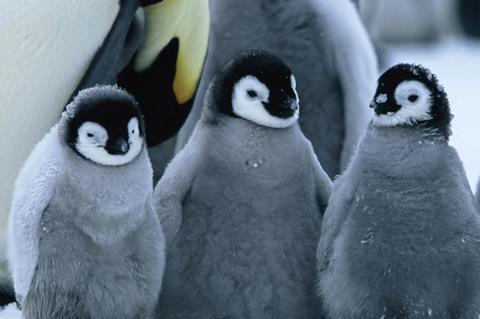 The high-altitude, snow-covered setting of the Les Arcs Film Festival in the French Alps does not immediately conjure up a sense of being in a "climate emergency".
But its backdrop, one of the last wildernesses of Europe, is facing the same ecological challenges as the rest of the planet, with temperatures rising faster than the global average in the Alps.
Worried about the festival's environmental impact, its founding chiefs Guillaume Calop and Pierre-Emmanuel Fleurentin, have off-set its carbon footprint ever since launching the event in 2009.
Now for the latest edition, running December 14 to 21, they decided to take their sustainability initiatives a step further with the launch of the Green Lab, looking at how the film industry can raise awareness around climate change and adopt sustainable working practices.
"The question is how do we raise the alarm without being boring," Luc Jacquet, director of the Oscar-winning 2005 documentary March Of The Penguins, told a Green Lab panel on whether cinema can influence the climate change debate.
He said times had changed since the success of March Of The Penguins, which grossed $127m worldwide. That work, as well as his 2007 film The Fox And The Child, had ridden the wave of "a golden age" when there was a big audience for environmental films.
His 2015 production Ice And The Sky, meanwhile, about the scientists who first detected global warming in Antarctica, drew just 70,000 spectators, against 1.9m for March Of The Penguins and 2.5m for The Fox And The Child.
"Despite the fact that the film was in the closing ceremony in Cannes, it barely drew 40,000 people [correct figure is around 70,000]. This was major testimony for me," he said. "There is no longer an audience for environmental films."
As a result, Jacquet has abandoned the traditional feature-film production model in favour of thematic projects exploring environmental and sustainability stories through a multi-platform approach, ranging from fiction features to exhibitions and content for social media.
In 2018, he launched a company called Icebreaker that will use blockchain technology to build and finance these projects. He has already set an ambitious slate - covering themes such as the Galapagos Islands, Siberia and the Lascaux Cave.
Laurent Baujard of Paprika Films, which recently co-produced Jacquet's March Of The Penguins 2: The Next Step and Vincent Steiger's A Wolf's Journey, agreed with this approach.
He said the company's latest project The Velvet Queen – revolving around an expedition to track down a rare snow leopard - would combine a hybrid feature documentary with a book and exhibition.

Power of fiction
Valentin Greutert of Swiss production house A Film Company said he and director Niklaus Hilber had opted for fiction over documentary for this year's Zurich International Film Festival opener Paradise War: The Story Of Bruno Manser in a bid to connect with a wider audience on an ecological story.
The film explores the exploits of real-life Swiss environmental activist Bruno Manser, who led a campaign to save the natural rainforest habitat of the Penan tribe, living in the Malaysian part of Borneo, from commercial logging. He disappeared in 2000 and is presumed dead.
"It's difficult to get people to watch environmental documentaries and the audience that do watch them are already interested in the subject, so your preaching to the converted," he said.
Finnish director Saarela Saara said she hoped to draw in a younger audience with her futuristic fiction feature project Memory Of Water, about two teenage girls on a quest to discover a hidden fresh water source, in a world where water has been come a precious, conflict-fuelling commodity.
Saara revealed she had been warned off mentioning the word "environmental" when pitching it, by marketing and sales experts.
"So many people said don't ever say it's an 'environmental thriller' or an 'environmental this or that' and that if we wanted it to reach a bigger audience to make it an adventure," she said.
Greutert, in the meantime, said he had used the environmental credentials of Paradise War to help raise the $6m budget for the project, which was difficult to set up as a co-production due to its Borneo shooting location.
"We financed half the budget through private funds," he said. "We sold something we called 'karma investment'. From the beginning, we told investors, if you want to make a profit, please don't give your money to us, but if you want to help us spread a message, please do."
Les Arcs is hoping to encourage the creation of more fiction features dealing with environmental issues with a new €10,000 ($11,153) prize for features exploring ecological issues and with a story element linked to a mountainous region.
Encouraging sustainable practices
The Green Lab also focused on what film industry can do to become more sustainable.
Memory Of Water producer Mark Lwoff at Finnish production company Bufo suggested the entire co-production eco-system needed to be reappraised. He said that the aim was for Memory of Water to be as sustainable as possible, throughout the development to production process, but the fact it was a co-production with Estonia, Germany and Norway meant it was a challenge.
"Doing co-productions is not really sustainable because you have to travel more but this is also part of the learning process," he said.
At another panel on how the film industry can adopt sustainable practices without hitting the bottom line, Mathieu Delahousse gave an overview of the services offered by his French company Secoya, which specialises in advising and auditing productions that want to go green.
There were audible gasps around the room when he revealed Secoya's involvement would typically cost around 2% of the budget if it were involved in a production from development through to the shoot.
He emphasised, however, that this could be offset by savings related, for example, to energy and water conservation as well as the raft of green incentives which are being increasingly offered by regional and national funds to productions adopting sustainable practices.
Delahousse suggested that shooting habits would have to change radically in the coming years.
He noted, for example, that location trucks could become a thing of the past for urban shoots, especially in cities like Paris or London which have implemented diesel taxes and are aiming to become carbon neutral by 2050.
"There are no trucks that respond to these changes right now," he said, suggesting that urban location shoots would increasingly have to set-up small, mobile shooting hubs instead.
In a sign that producers are taking the issue of sustainability more seriously, the European Producers Club, representing 130 producers from 28 territories, launched a new green charter at the panel under which producer signatories pledge to adopt more sustainable practices. It is currently conducting an in-depth study into its members' experiences around green practices which will be published at the Berlinale in 2020.
The discussion was not confined only to production.
Xavier Lardoux, head of film at France's National Cinema Centre (CNC), said the body had just launched an in-depth study involving France's exhibition body the National Cinema Federation (FNCF) and the French Environment and Energy Management Agency (Ademe)
"There are 6,000 screens in France. We want to look at how we can reduce their carbon footprint," said Lardoux, adding that a second study was looking at how theatres could reduce the amount of waste they generate. "The results will be published in Cannes in 2020."