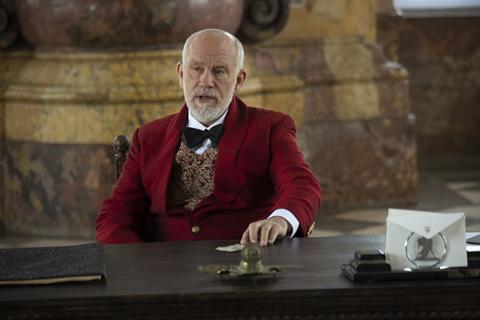 Paris-based Wide Management has picked up sales rights to Polish auteur Lech Majewski's fantasy drama Valley Of The Gods starring Josh Hartnett and John Malkovich, and kicks off talks with buyers in Toronto this week.
Loïc Magneron's sales company will host a private market screening at the TIFF Bell Lightbox on Monday (September 9). Wide holds worldwide rights excluding Middle East, Scandinavia, and former Yugoslavia, and represents North America with producers Angelus Silesius and Royal Road Entertainment.
Wide previously handled sales on Majewski's The Mill And The Cross starring the late Rutger Hauer, Michael York and Charlotte Rampling and Onirica – Field Of Dogs. Majewski's latest work stars Malkovich as the reclusive richest man on earth and Hartnett his would-be biographer, and intertwines their stories with an ancient Navajo legend as it explores how supernatural visions clash with reality. The ensemble cast includes Bérénice Marlohe (Skyfall), Keir Dullea (2001: A Space Odyssey), and John Rhys-Davies (The Lord Of The Rings trilogy).
The film shot in Utah, Poland, and Italy, and is a co-production between Majewski's Angelus Silesius and Filip Jan Rymsza's Royal Road Entertainment, with Majewski and Rymsza serving as producers. Royal Road's Olga Kagan, Małgorzata Domin, and The Safran Company's Peter and Natalia Safran are the executive producers.
Wide president Magneron brokered the deal with Rymsza, who previously brokered deals with Svensk for Scandinavia, Front Row for the Middle East, and 2i Film for Albania and former Yugoslavia.
Polish festival Camerimage will honour Majewski with the 2019 Special Camerimage Directing Award in November, when Valley Of The Gods will receive an Out of Competition Gala Screening as part of a retrospective. Further festival dates will be announced.
"As soon as I saw Valley Of The Gods I was completely fascinated by the film," said Magneron. "It is a bold and unique artistic statement unlike anything I have seen before. For me it felt natural for Wide to be part of this adventure and I am very proud to have the chance to collaborate with Lech once again."
"Wide was a creative and strategic partner helping The Mill & The Cross and Onirica - Field Of Dogs secure distribution," said Majewski. "I am certain they will bring the same passion to my latest film Valley Of The Gods and ensure that the film will reach audiences worldwide."
"Lech approaches each film as it were a painting and, in terms of scope and multitude of ideas, Valley Of The Gods is easily his largest canvas," said Rymsza. "We're excited to finally share this virtuoso's work with the rest of the world."
Wide's sales roster includes TIFF Contemporary World Cinema entry The Father by Petar Valchanov and Kristina Grozeva, which won the Crystal Globe for best film at Karlovy Vary.