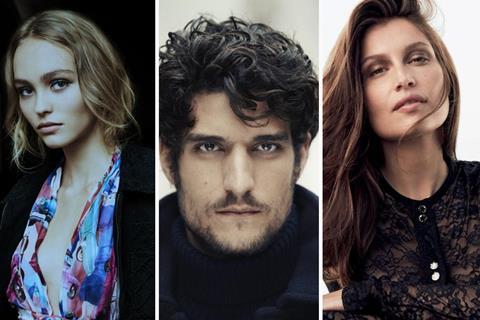 Wild Bunch will launch sales on Louis Garrel's second feature A Faithful Man, in which he will also co-star opposite Laetitia Casta and Lily-Rose Depp, at the EFM this week.
The film revolves around the complex relationship between Abel, his former partner Marianne, who left him for his best-friend Paul but returns following the latter man's death, and Paul's sister who is secretly in love with Abel.
Garrel wrote the screenplay with Oscar-winning screenwriter Jean-Claude Carrière. Paris-based Why Not Productions is producing. Arnaud Desplechin collaborator Irina Lubtchansky is attached as cinematographer.
The actor-director's debut film Two Friends premiered in Cannes Critics' Week in 2015. It is one of two second features from buzzy filmmakers on Wild Bunch's EFM slate.
Goliath
The company has also acquired Swedish director Peter Grönlund's drama Goliath about the son of a drug dealer torn between the desire to go straight or bow to pressure to take over the reins of his dysfunctional family's criminal business.
Grönlund's first feature was the award-winning debut Drifters (Tjuvheder) about two vulnerable women who come to one another's aid against the backdrop of Stockholm's underworld. It clinched five of Sweden's Guldbagge awards in 2016.
Frida Bargo and Mattias Nohrborg at B-Reel Films, whose credits include Euphoria and Thelma, are producing.
"It's a family saga set against the backdrop of a marginal neighbourhood in Sweden where kids are forced brutally into adult life," commented Wild Bunch head of sales Eva Diederix.
"We've been following Peter's work ever since his first film which we loved. We'll show a first promo-reel at the EFM," she added. " "It has the force of Nicolas Winding Refn's Pusher combined with an element of Gaspard Noé's I Stand Alone as well as the rawness of Audiard and Loach's work," she continued.
It marks a rare foray into Scandinavian cinema for Wild Bunch.
"There have been so many strong movies coming out of the Nordics over the past decade, depicting vulnerable people fighting for survival. It's a region we're playing close attention to," said Diederix.
Other EFM launches
The new acquisitions join a high-profile, auteur-driven slate for Wild Bunch at the EFM.
The company will also launch sales on Japanese director Hirokazu Kore-eda's newly-titled drama Shoplifters and Russian filmmaker Yury Bykov's The Factory.
Shoplifters revolves around an impoverished family, living off petty crime, who happily take in an abandoned girl until an unforeseen incident tests family ties.
Wild Bunch is selling rights worldwide apart from in Asia where the films is handled by Gaga Corp. Le Pacte has acquired French distribution rights.
Bykov's The Factory is a thriller about a group of factory workers who kidnap a local oligarch when he declares their factory bankrupt after months of withholding wages, pitting themselves against his ruthless private bodyguards and a police SWAT team.
Charles-Evrard Tchekhoff's Paris-based Kinovista, which released Bykov's The Fool in France, is producing in association with Wild Bunch, Forever Films Media, Koda and Sharm.
New French titles
Wild Bunch will also continue sales on a number of French titles first introduced to European buyers on the fringes of the Unifrance Rendez-vous with French Cinema in Paris in January.
These include Benoît Delépine and Gustave Kervern's quirky I Feel Good starring Jean Dujardin as free-loading slacker Jacques who cooks up a plan to sell cheap plastic surgery package tours after his parents cut him off.
Jacques moves in with his sister, played by Yolande Moreau, who is the manager of a charitable Emmaus community for homeless people, where he convinces a number of its members to part with their meagre savings on the promise of a life-changing trip to Bulgaria. A day of reckoning awaits as the scheme unravels.
Oscar-winning actor Dujardin is producing the feature with brother Marc Dujardin under their joint JD Prod banner alongside Delépine's No Money Productions.
Ad Vitam has taken French rights to the film which has also pre-sold to Benelux (Cinéart) and Switzerland (Praesens-Film). Wild Bunch has released a first look of the actor in the role of Jacques.
"It's an unusual role for Jean Dujardin but totally in the vein of characters created previously by Delépine and Kervern," said Diederix, referring to the directorial duo's previous collaborations with the likes of Gérard Depardieu in Mammuth and Benoît Poelvoorde in Le Grand Soir.
The company is also launching world sales on Audrey Diwan's debut feature Mais Vous Êtes Fous starring Pio Marmaï as a successful dental surgeon whose picture-perfect family life risks being wreaked beyond repair by a secret long-term addiction.
It is produced by Wild Bunch's habitual collaborator Edouard Weil's Rectangle Productions and is currently shooting.
"it's an extremely moving script and continues our strong bond with Edouard. We've taken domestic and international sales," said Diederix. "It's a very powerful family drama story about a family that goes up to the brink of destruction. It's in the vein of Declaration of War."
Other new French productions include Bruno Podalydès's comic strip adaptation Bécassine!, bringing to life on the big screen, the loveable character of Breton housemaid Bécassine, one of France's best loved and enduring female comic book characters.
UGC Distribution will release the film in France.
Updates
Wild Bunch will also continue sales on previously announced titles Where Is Anne Frank? which is on the verge of closing financing; Jean-Stéphane Sauvaire's Addicted To Violence, which is in pre-production; Philippe Godeau's Omar Sy-starrer Racine which is currently shooting in Senegal, and Régis Roinsard's The Translators, which is also in production since Jan 23.
The company is also set to show new promos for Cannes hopefuls Pablo Trapero's La Quietud, Michel Ocelot's Dilili In Paris and Bi Gan's Long Day's Journey Into Night, which has recently been acquired by Bac Films for France, and Claire Denis's High Life as well Brian Walsh's Beats, which Wild Bunch is co-selling with Altitude.