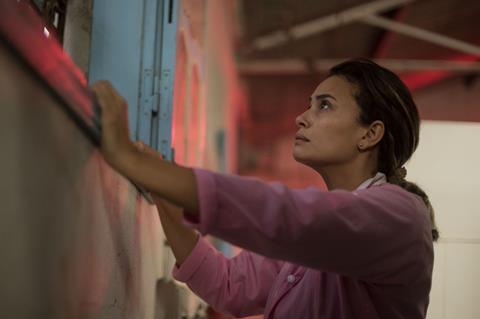 Wild Bunch has acquired world sales rights to Tunisian director Hinde Boujemaa's female rights drama Noura's Dream ahead of its premiere in TIFF's discovery section next month.
Popular Tunisian-Egyptian actress Hend Sabri (aka Hend Sabry) plays the titular Noura, an independent woman, who has raised her three children alone with little support from her absent, petty criminal husband.
While her husband is serving time in jail, she falls in love with another man. Noura applies for a divorce but the imminent release of her husband threatens to scupper her bid to make a new life with the man she loves.
Wild Bunch describes the film as "a passionate, intimate and brave declaration of every woman's right to love as she chooses in Tunisia and beyond."
It is Boujemaa's second feature film after the 2012 documentary It Was Better Tomorrow about an outcast middle-aged woman struggling to secure a roof over her head in post-revolutionary Tunisia.
That film premiered out of competition at Venice and went on to win best director at the Dubai International Film Festival.
The new feature is produced by Tunisia's Propaganda Productions and Belgium's Eklektik Productions and Paris-based Les Films de L'Après-Midi.
The title joins a growing roster of strong Arab- language titles in Wild Bunch's catalogue topped by Lebanese filmmaker Nadine Labaki's Cannes 2018 jury prize winner Capernaum and Elia Suleiman's It Must Be Heaven.
The latter title – which is Palestine's submission to the Academy Awards's best international feature this year – will also play at TIFF in the Masters line-up, having premiered in Competition at Cannes 2019.
Venice slate
Prior to TIFF, Wild Bunch chief Vincent Maraval and sales head Eva Diederix are heading to Venice for the opening night premiere of Japanese director Kore-eda Hirokazu's French-language debut The Truth, starring Catherine Deneuve and Juliette Binoche.
The title, which has sold out, has been scheduled for an Oct 11 release in Japan by Gaga while Le Pacte has set a French release date of Jan 22 and IFC Films is planning a US launch for March 2020.
The Wild Bunch Venice slate also includes Lou Ye's black and white spy intrigue Saturday Fiction, starring Gong Li as an actress working undercover for the allies in Shanghai 1941, which premieres in Competition.
The company will also market premiere Chinese filmmaker Gu Xiaogang's Dwelling In The Fuchun Mountains which premiered to strong reviews as the closing film of Cannes Critics' Week.
TIFF slate
Wild Bunch will be at TIFF with a total of eight titles including The Truth and Saturday Fiction, which will play as special representations.
The TIFF slate also features Workforce, the debut feature of Mexican director David Zonana, produced by Michel Franco. The social drama, about a group of construction workers who battle for justice after the accidental death of a colleague, premieres in Platform.
Other TIFF titles include Ken Loach's Sorry We Missed You, which plays in Masters as well as Kantemir Balagov's Beanpole, a tale of survival set in Leningrad in the immediate aftermath of World War Two, and Ladj Ly's incendiary French urban social drama Les Miserables, both of which will play Contemporary World Cinema.