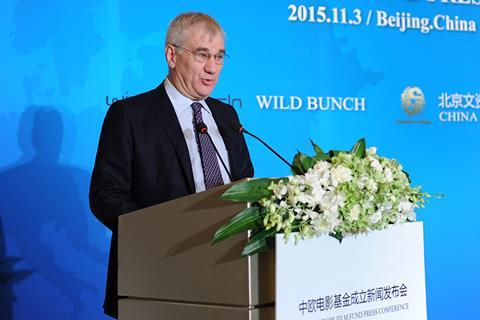 After months of speculation, Wild Bunch and its majority stakeholder Sapinda have announced a financial restructuring plan which reduces the pan-European sales and distribution company's debts and sets it on a new course towards growth after nearly a decade of retrenchment.
Vincent Grimond, CEO of the Germany-based parent company Wild Bunch AG, created when France's Wild Bunch merged with German film company Senator in 2015, said the plan represented a major turning point for the Wild Bunch group as whole.
"The situation is now much clearer," Grimond told Screen. "It enables us to look to the future and put the parts of the company we've been building these past years to work in earnest."
Under the plan, Sapinda subsidiary SWB Finance B.V. will take on existing financial liabilities for a total amount of $73.2m (€62.7m), $42.7m (€36.6m) of which will be converted into equity in Germany-based parent company Wild Bunch AG.
In addition, the creditors of an 8% corporate bond issued in 2016 with a total nominal amount of $21m (€18m) have agreed to convert all bonds into new shares of Wild Bunch AG through a further capital increase.
These two operations will reduce Wild Bunch's debt by $63m (€54.6m) and result in a parallel increase in equity.
In addition to reducing the debt, Sapinda has also committed to providing Wild Bunch with a $35m (€30m) credit facility for the acquisition of new content. Grimond said this would be a game-changer for the Wild Bunch group, especially for the development of its TV activities.
"This will allow us to buy content, whether it be series or films, or even companies or other activities," he said, adding that the company would be left with around $58m (€50m) worth of debt, not taking the additional €30m credit line into account.
"That's not so much. We have assets largely more valuable than that," he said.
The plan increases Sapinda's stake in the company to 76%, leaving Wild Bunch's existing shareholders with a 9% share and bondholders with a 15% stake.
"We've been minority shareholders for ages now. It does not change much for us," said Grimond, when quizzed on the reduction of his share in the company alongside that of the fellow co-founders Brahim Chioua and Vincent Maraval.
Uncertainty
The plan ends years of financial uncertainty for Wild Bunch and also comes hot on the heels of a high-profile Cannes Film Festival for the company, where its international sales slate featured Hirokazu Kore-eda's Palme d'Or winner Shoplifters and Nadine Labaki's Jury Prize winner Capernaum, as well as Jean-Luc Godard's The Image Book, which was feted with an honourary Palme d'Or, and Gaspar Noé's prize-winning Directors' Fortnight selection Climax.
The Sapinda investment fund – run by flamboyant German entrepreneur Lars Windhorst – first got involved in Wild Bunch AG when it bankrolled the merger between Wild Bunch and Senator in 2015.
The investment fund's financial support for the fledgling group quickly dried up, however, after Windhorst was hit by a series of legal battles linked to past investments. But he has bounced back over the past year, settling a number of lawsuits, raising $584m (€500m) in a new bond-based funding vehicle and recently acquiring the lingerie brand La Perla.
This bounce-back has also enabled Windhorst to renew his support for Wild Bunch.
Grimond would not comment on the events of the past three years but said that Wild Bunch still regarded Sapinda as the "most natural" partner for the group.
Windhorst for his part said in a statement: "We are pleased to be able to provide a financial solution to the highly decorated Wild Bunch film group, with this injection of equity capital, alongside a debt restructuring. An independent film champion like this, with so much heritage, requires stability and support to initiate a new phase of profitable growth."
The terms of the plan were approved by the Commercial Court of Paris on Tuesday (July 24) and the capital increases will be voted on at shareholders general meeting on September 20.