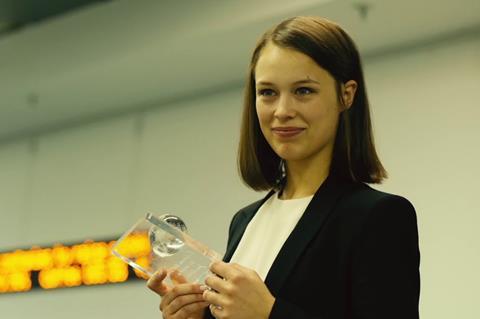 Wild Bunch has boarded German director Christian Schwochow's adaptation of Siegfried Lenz's classic novel The German Lesson (Deutschstunde) which begins shooting in North Rhine-Westphalia in March.
Schwochow, who has oscillated between TV and feature productions throughout his career, is at the Berlinale this year with his buzzed-about high-finance thriller TV series Bad Banks (pictured) which premieres in the festival's TV sidebar.
One of the classic novels of post-Second World War German literature, The German Lesson explores human behaviour under a dictatorship through the tale of a young man who defies his police officer father to save the expressionist paintings of a neighbour from destruction during the Nazi reign.
Network Movie Film is producing alongside Senator Film with the support of ZDF. The picture sees Schwochow collaborate again with his mother Heide Schwochow who wrote the screenplays for three of his previous feature films: November Child (2008), Cracks In The Shell (2011) and West (2013).
Three former European Shooting Stars – Maria Dragus, Johanna Wokalek and Ulrich Noethen – are in the cast. Austrian actor Tobias Moretti, who is in Bad Banks, has also signed for the production.
Wild Bunch Germany will release The German Lesson in Germany.
In other projects, Schwochow is also attached as a director to Thomas Wendrich's Je Suis Karl which is currently in development at Cologne-based Pandora Film, co-producer of the Paraguayan Competition film The Heiresses, who had produced Schwochow's 2016 film Paula.
Wendrich's contemporary drama was one of three screenplays nominated for this year's German Screenplay Award.