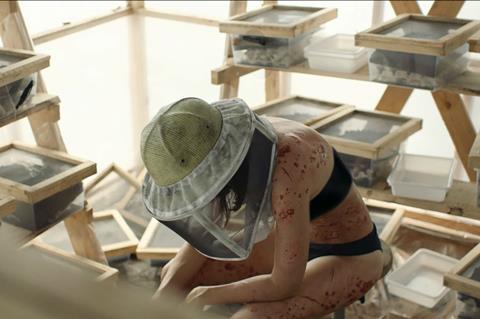 Wild Bunch has boarded sales on Just Philippot's fantasy drama The Swarm about a woman who develops an obsessional bond with grasshoppers she is breeding as a high-protein crop.
The film, produced by Capricci and Manuel Chiche's The Jokers Films, is a first feature for Philippot.
The emerging French director participated in Sundance's international shorts competition earlier this year with his Canal+ acquired short film Acide, about a disturbing acidic cloud which passes over a country spreading panic.
In The Swarm, Suliane Brahim stars as a stressed-out single mother who is having a hard time getting her grasshopper farm off the ground until she discovers her high-protein livestock love the taste of blood.
The French actress is best known internationally for her lead role in the French-Belgian crime series Black Spot (Zone Blanche), different seasons of were picked up by Amazon and then Netflix, and also plays the older sister character in the French version of Fleabag.
The sales acquisition follows in the wake of the company's past success with first features like Raw by Julia Ducournau and France's Oscar submission this year, Les Misérables by Ladj Ly.
The feature is currently in post-production, will be ready for a spring 2020 festival launch. Wild Bunch have released a first image from the production (see above).
New films from Dupieux, Gustave Kervern and Benoit Delépine
Wild Bunch has also boarded sales on Quentin Dupieux's upcoming road movie Mandibles, about two goofy friends who find a giant fly in trapped in the boot of their car and decide to train it as moneymaking venture, ahead of the AFM
It is sharing world sales with compatriot sales company WTFilms which previously sold the director's Cannes Directors' Fortnight opener Deerskin as well as Keep An Eye Out.
French comedy duo Grégoire Ludig and David Marsais co-star and are joined in the cast by Adele Exarchopoulos, Coralie Russier and India Hair and Belgian rapper and hip hop artist Romeo Elvis.
It is produced by Hugo Sélignac at Chi-Fou-Mi Productions. Memento Films has taken French rights.
The company will also launch directorial duo Gustave Kervern and Benoit Delépine's comedy drama Delete History, exploring the issue of personal data and the snail trails people leave on the internet.
Blanche Gardin, Denis Podalydès and Corinne Masiero co-star as three neighbours who hook up with a hacker to tap into the servers of their social media acccounts to alter some personally inconvenient data.
The cast will also feature special guests Vincent Lacoste, Michel Houellebecq, Benoit Poelvoorde and Kervern will also take on a role. It is produced by the directors' production house No Money Productions and Les Films du Worso.
It is currently in post-production and will be ready for a festival launch in the first half of 2020.
First looks
The company will also unveil first images for a number of its previously announced titles, including Gia Coppola's drama Mainstream exploring the poisonous side of internet stardom.
The feature, starring Andrew Garfield, Maya Hawke, Nat Wolff and Jason Schwartzman, is currently in post-production.
It will also show first images for Sylvie Verheyde's Madame Claude starring Karole Rocher (Sex Doll, Stella) as a legendary real-life Paris brothel owner of the 1960s and 70s, whose clients allegedly included John F. Kennedy and Libyan dictator Muammar Gaddafi.
Other previously announced upcoming titles on the AFM slate include Sean Penn's father-daughter drama Flag Day, Thierry Frémaux's second film devoted to cinema pioneers Auguste and Louis Lumière, Lumière! The Adventure Continues, and Philippe Garrel's romantic drama The Salt Of Tears.