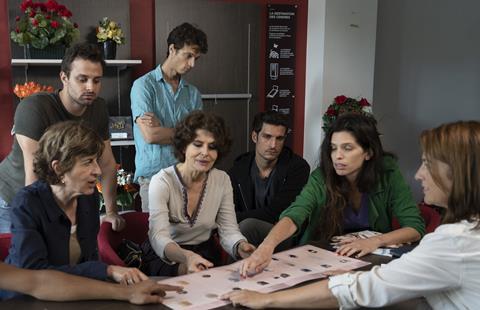 Wild Bunch is to launch sales on new films by Maïwenn, Stéphane Brizé, Louis Garrel and Bruno Podalydès at Unifrance's Rendez-vous with French Cinema in Paris next week (January 16-20).
Drawing on her own complex history, Maïwenn's fifth feature DNA revolves around a woman with close ties to a beloved Algerian grandfather who protected her from a toxic home life as a child. When he dies, it triggers a deep identity crisis as tensions between her extended family members escalate revealing new depths of resentment and bitterness.
As with her 2011 Cannes Jury Prize winner Polisse, Maïwenn both directs and stars.
Other cast members include Fanny Ardant, Louis Garrel and Marine Vacth. The film, produced by Why Not Productions, is in post-production and is expected to be ready in time for a potential Cannes splash.
Brizé's new film For Better Or For Worse reunites the director with long-time collaborator Vincent Lindon in the role of a workaholic executive, opposite Sandrine Kiberlain as his long-suffering wife.
With his personal life eclipsed by the demands of his job at a US conglomerate, he hits breaking point when his neglected spouse walks out on their marriage
It remains to be seen whether the film – which is currently shooting – will be ready in time to follow in the footsteps of Brizé's previous features At War and The Measure Of A Man, which debuted in competition at Cannes.
Brizé has also successfully debuted his work at Venice (A Woman's Life) and Locarno (A Few Hours Of Spring).
It is produced by Christophe Rossignon and Philip Boëffard's Nord-Ouest Films, which is enjoying French box office success with rural drama In The Name Of The Land. Diaphana Distribution has already snapped up French rights.
Actor and director Podalydès' comedy-drama French Tech also explores the world of work but in a more light-hearted manner through the tale of an unemployed man left in sole charge of his children while his wife is away on a two-month work mission.
Cash-strapped and desperate to earn a living, he takes a job at a start-up company with a strict no-child policy and then has to jump through hoops to hide his paternal commitments and chaotic home-life. The cast features Podalydès alongside actor brother Denis Podalydès and Kiberlain.
The freshest project on the slate is Garrel's drama The Crusade, which revisits the recomposed family unit of his 2018 feature A Faithful Man and has a timely green theme. Garrel stars opposite Laetitia Casta as a couple who discover their teenage son has been secretly selling the family possessions to fund an ecological project in Africa.
Julien Poupard, the cinematographer on Ladj Ly's Oscar hopeful Les Misérables, is attached to the film which is in pre-production. Why Not Productions produces.
Wild Bunch has also come on board Lucas Belvaux's drama Home Front as a co-seller alongside Jour2Fête and Doc & Film as the two companies undergo a merger into one entity.
The title was signed to Doc & Film by former CEO Daniela Elstner prior to her departure to become managing director of Unifrance.
Adapted from a best-selling novel by Laurent Mauvignier, it stars Gérard Depardieu as a damaged Algerian War of Independence veteran coming to terms with painful memories.
First features
Wild Bunch's new French-language slate also features a trio of first-time features with strong festival potential.
They comprise Italian director Giovanni Aloï's hyper-realistic, psychological drama The Third War; Yassine Qnia's inner city tale A Brighter Tomorrow; and Samir Guesmi's social drama Ibrahim.
In The Third War, Anthony Bajon plays a young army recruit, assigned to patrol the streets of Paris in the wake of recent terrorism attacks, amid rising social tension. The stress of constantly being on alert for potential threats slowly takes its toll on his sanity.
Leïla Bekhti and Karim Leklou (The World Is Yours) also feature in the cast. It is produced by Capricci Production and Bien Ou Bien Productions.
Qnia's inner city drama A Brighter Tomorrow stars Soufiane Guerrab as a criminal safecracker, devoted to his young son and elderly mother, who is determined to turn a new page in his life.
The self-taught director and former construction site worker has won numerous prizes with his short films. His debut short Fais Croquer, inspired by his initial attempts to break into filmmaking, is being showcased at Unifrance's MyFrenchFilmFestival.com online festival this year.
Father and son drama Ibrahim marks the debut feature of prolific actor Samir Guesmi. He directs and stars in the tale revolving around an adolescent dreamer who tries to make amends for a shoplifting conviction which lands his father in debt.
Rendez-vous screenings
Wild Bunch will also market premiere Pascal Plisson's documentary Gogo, about a Kenyan great grandmother who goes back to school, as well as market screening of Régis Roinsard's stylish whodunit The Translators, revolving around the theft of a top secret literary manuscript.
Le Pacte has picked up French rights for Gogo for a May 27 release while Mars Films with Trésor Cinema is gearing up to launch The Translators on 300 French screens on January 29.
Wild Bunch will hold a special screening event for In The Name Of The Land, which has drawn some 2 million spectators at the French box office. Director Édouard Bergeon, film producer Christophe Rossignon and co-star Guillaume Canet will participate in a discussion on the release strategy behind its success.
Other previously announced French-language titles on the Wild Bunch slate include Sylvie Verheyde's brothel queen bio-pic Madame Claude; Gustave Kervern and Benoît Delépine's data privacy comedy-drama Delete History, for which there are new promo reels; and Philippe Garrel's romantic love triangle The Salt Of Tears, about a carpentry apprentice torn between two passions.