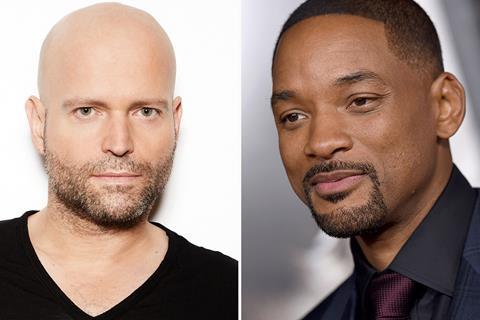 UPDATED: Hollywood actor-producer Will Smith and German-born Swiss director Marc Forster (Monster's Ball) have acquired the German sales and distribution company Telepool from German public broadcasters Bayerischer Rundfunk, and Mitteldeutscher Rundfunk, SWR Media Services, and Switzerland's Telvetia, a subsidiary of Swiss broadcaster SRF.
The acquisition was made by The Smith Family Circle, Will and Jada Smith's Family Office, and the Zurich-based strategic investment holding Elysian Fields co-founded by Marc Forster.
Executives in the US independent space who spoke to Screendaily reacted with varying levels of bewilderment. The acquisition sets up Smith and Forster to benefit from sales revenues, although the sales agency business faces challenges.
One insider speculated it would be a way for the new owners to channel smaller films and passion projects away from a studio and into an infrastructure that will afford them greater control. That, the source said, may encourage them to expand their ambitions beyond Germany.
"All management positions at subsidiary companies and all other management functions will remain unchanged for the time being," said André Druskeit, who succeeded Thomas Weymar as CEO of Telepool on June 1.
He added Telepool will continue working with its previous shareholders who have renewed their respective agreements with the company, including broadcasting the films to which Telepool has theatrical rights.
As part of the deal, Will Smith and James Lassiter's Overbrook Entertainment will have the option to develop and distribute film and television projects through Telepool. Overbrook remains its own independent production entity producing and developing film and television content.
Additionally, Marc Forster and Renee Wolfe's independent production entity 2dux² will also have the option to develop and distribute film and television projects through Telepool while also remaining fully independent.
Telepool is one of Germany's oldest and most established distributors with offices in Munich, Zürich, Leipzig, Seesen and Los Angeles. Its core business is the acquisition, sales and promotion of theatrical, DVD, TV, VoD and gaming content for German-speaking territories. It also owns sales company Global Screen and German home entertainment distributor EuroVideo Medien
Releases include London Has Fallen and Open Range.
Smith said he and Forster "look forward to working together and with the Telepool team to create unique opportunities and content to strategically growing the business."
"I believe Will and I will be able to contribute our combined energies and global relationships to the company's advantage," said Forster.
Addtional reporting by Jeremy Kay