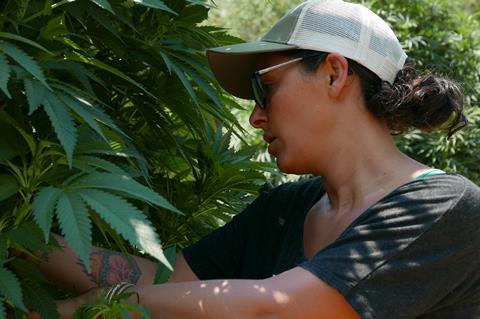 Women directors account for nearly half of the selections at the online 2021 Hot Docs Canadian International Documentary Festival, which will run from April 29-May 9 and is available to viewers across Canada.
Programmers selected 219 films from 66 countries across from 12 sections from 2,300 submissions.
Special Presentations sponsored by Crave features world premieres of Yung Chang's Covid-19 film Wuhan Wuhan; Dirty Tricks, about a scandal within the world of competitive bridge playing; and Come Back Anytime about self-taught Japanese ramen master Masamoto Ueda.
The Persister strand comprising female-directed films about women speaking up and being heard includes world premieres of: Elizabeth D. Costa's Bangla Surf Girls, about three rebellious working-class teenage girls in Bangladesh; Chris J. Russo's Lady Buds (pictured), about six businesswomen trying to break into California's legal cannabis trade; Bobbi Jo Hart's FANNY: The Right To Rock, in which rockers Fanny get a comeback record deal; and Luciana Kaplan's The Spokeswoman, about Maria de Jesus Patricio, the first Indigenous female Mexican presidential hopeful and her battle against institutionalised racism.
Canadian Spectrum entries include Ann Shin's opening night film A.rtificial I.mmortality, which explores how memories can be digitised and uploaded into clones; and environmental story Hell Or Clean Water from Cody Westman.
International Spectrum selections include world premieres for Miguel Ángel Blanc's Magaluf Ghost Town, which examines the impact of tourism on Spanish residents; Anaïs Taracena's The Silence Of The Mole, about a journalist who infiltrated Guatemala's repressive government in the 1970s; and Annabel Verbeke's Four Seasons In One Day, in which passengers on the ferry that runs between Northern Ireland and Ireland opine about Brexit.
The World Showcase programme sponsored by CBC Gem includes world premieres of Keti Machavariani's Sunny, which follows a social worker in Tbilisi, Georgia, who goes door-to-door discussing sexuality, minority rights and nationalism; Michal Weits's Blue Box, which explores fundraising efforts by the Jewish National Fund to purchase the land of Israel, and Libya exile portrait The Colonel's Stray Dogs from Khalid Shamis.
A dedicated Made In Colombia strand presented in partnership with PROCOLOMBIA and Proimágenes Colombia explores, among other things, love among the ranks of FARC in the world premiere of Alejandro Bernal's Rebel Love; Cubans in migratory limbo in Option Zero from Marcel Beltrán; and Between Fire And Water from Viviana Gómez Echeverry and Anton Wenzel, about an adopted boy who sets out to discover his true identity.
The inaugural Citizen Minutes project will showcase eight original shorts and is designed to inspire interest and engagement in Canadian democracy and public affairs.
Among the festival's industry programming highlights are conferences and market programmes and networking events for Canadian and international delegates such as Hot Docs Forum, Hot Docs Deal Maker, Distribution Rendezvous, and The Doc Shop.