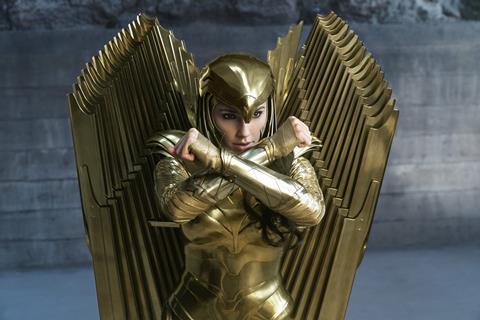 DECEMBER 28 UPDATE: Warner Bros. reported a confirmed $16.7m North American theatrical debut and $85.4m global running total for Wonder Woman 1984 on Sunday (December 27) and said it is fast-tracking development on a trilogy-concluding instalment with writer-director Patty Jenkins and star Gal Gadot on board.
The North American launch delivered the highest post-lockdown Friday-Sunday debut weekend of any feature in 2020 from 2,151 open cinemas operating at limited capacity – a footprint of 39% representing 56% of total box office.
This compares to the $9.7m launch of Universal's Croods 2 in the last weekend of November when roughly 60% of sites were open, and the $9.4m release of Tenet in September when around 70% were operational.
In Canada 5% of cinemas are open representing 3% of total Canadian box office. Warner Bros debuted Wonder Woman 1984 on PVoD day-and-date, reporting more than $4m from the digital platform.
In the US the tentpole debuted on HBO Max day-and-date with the theatrical launch. WarnerMedia sources were coy on the numbers, revealing that "nearly half" of the platform's retail subscribers watched it on December 25 opening day, along with "millions" of wholesale subscribers who access the streaming platform via a cable, wireless, or partner services.
The studio added that HBO Max saw total viewing hours on December 25 more than treble in comparison to a typical day in the previous month.
WarnerMedia direct-to-consumer EVP and general manager Andy Forssell said, "Wonder Woman 1984 broke records and exceeded our expectations across all of our key viewing and subscriber metrics in its first 24 hours on the service, and the interest and momentum we're seeing indicates this will likely continue well beyond the weekend."
Wonder Woman 1984's global weekend take was $36.1m led by number one launches in Australia on $4m from 312 screens to claim 60% market share, and South Korea on $2.5m from 2,260 screens for 74% market share. China has generated $24.2m after two sessions.
Warner Bros Pictures Group chairman Toby Emmerich said both writer-director Patty Jenkins and star Gal Gadot "will return to conclude the long-planned theatrical trilogy".
In an interview that ran in The New York Times last week, Jenkins ad appeared equivocal when asked whether she would return to the superhero franchise after she directs Star Wars: Rogue Squadron.
"We'll see what happens," she told the newspaper. "I really don't know. I know that I'd love to do the third one if the circumstances were right and there was still a theatrical model possible. I don't know that I would if there wasn't."
WarnerMedia recently outraged Hollywood when it said all Warner Bros films on the 2021 slate will open in US cinemas day-and-date with a 31-day run on HBO Max.
The move was ostensibly due to cinema closures and rising streaming viewership during the pandemic, however observers are concerned that the strategy marks another assault on the exclusive theatrical window.
In the Times interview Jenkins did not dispute the statement that she earned around $8m or $9m on Wonder Woman 1984.
The first film in the series, Wonder Woman, grossed more than $822m worldwide in 2017.