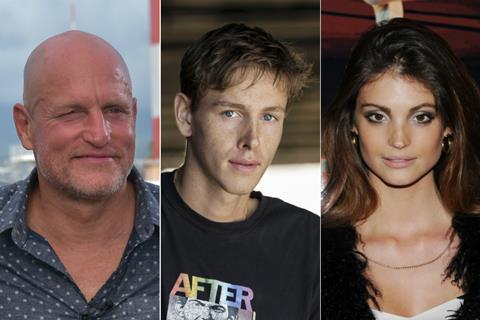 Triple Oscar nominee Woody Harrelson, Screen Star of Tomorrow 2017 Harris Dickinson (Beach Rats, Trust) and South African model and actress Charlbi Dean have signed to star in Ruben Östlund's first English-language film Triangle Of Sadness.
Dickinson and Dean will play a glamourous couple who are invited on a luxury cruise, helmed by a Marxist captain, played by Harrelson, When the group becomes stranded on a desert island, the hierarchies are turned upside down when only the cleaning lady can help as she knows how to fish. And then the male model realises he can use his looks to get more fish.
Budgeted at $13.8m (€12.5m), the project will start its 70-day shoot on February 19 in a studio in Trollhättan, Sweden, before moving to shoot on location in Greece and on a 230-foot yacht on the Adriatic.
The producers are Erik Hemmendorff for Plattform Produktion (the company he founded with Östlund) and Philippe Bober at Coproduction Office, which is also handling international sales.
Dan Friedkin, Bradley Thomas and Ryan Friedkin of the US' Imperative Entertainment are backing the project and will serve as executive producers with Micah Green and Daniel Steinman of 30West.
30 West and WME are jointly handling North American rights.
The director has UK backing for the first time from BBC Films and the BFI.
Mike Goodridge will also serve as an executive producer. Goodridge, who is setting up his new UK production company Good Chaos, was formerly CEO of Protagonist Pictures and an editor of Screen. He has also been artistic director of the Macao International Film Festival and Awards for three editions.
Most ambitious film yet
Ostlund explained the geographic range of the backers reflects what he is trying to do on screen. "I have had a goal with The Square and Force Majeure and Triangle of trying to combine the best parts of European film history with the best part of the American approach," he said.
"I want to make a wild, entertaining, thought-provoking film that for me brings to mind Buñuel and Lina Wertmüller. I have tried not to have any limitations of where this film can go, it's a project that I hope can be an adult rollercoaster."
The international cast also includes Croatia's Zlatko Buric, Germany's Iris Berben and Sunnyi Melles, Sweden's Henrik Dorsin, The Philippines' Dolly De Leon, Denmark's Vicky Berlin and the UK's Oliver Ford Davies.
The lengthy casting process began in spring 2018 and took the team around the globe to Manila, Berlin, London, Paris, Stockholm, Copenhagen, New York, Los Angeles, Barcelona and elsewhere.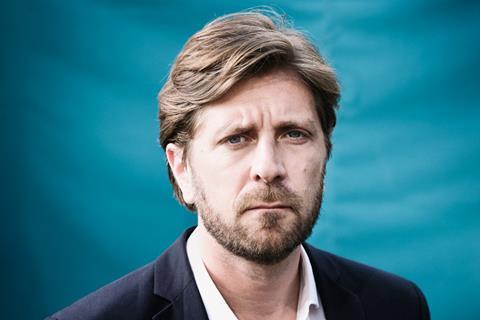 "I wanted to be very careful with my first English-language film," Östlund explained. "I wanted to try out different scenes with the [potential] actors and I also wanted to develop the script while we were trying out these scenes in casting. I wanted to give all the actors time."
Östlund has been a fan of the Harrelson since the actor's Cheers days. "He's really an actor I respect. And I talked a little bit to him about the context of the project and the political standpoint of it, and we agree a lot about it."
The director said of Dickinson: "One thing I really like about Harris is how he listens very carefully to the other actors. He's concentrating about what you are saying and how you are saying it and can immediately adapt what he is doing."
Dean was recommended by Östlund's wife, a fashion photographer. "We took a long shot and flew Charlbito Goteborg and I spent one day doing improvisations with her. She was so playful and funny and quick."
"The currency of looks"
The director revealed the idea for the film came from conversations with his wife. "She told me funny stories of how the [fashion] industry works," Ostlund recalled. "I got interested in how beauty can become a currency, even without money or education, if you are born beautiful you can rise in class and society. I'm looking at the currency of looks."
Östlund will reunite with key collaborators including director of photography Fredrik Wenzel (Force Majeure, The Square), production designer Josefin Åsberg (Force Majeure, The Square) and costume designer Sofie Krunegård (The Square).
The studio work in Sweden will include a catwalk from a fashion show, as well as the yacht's interiors, built on a set that can rock, to give the feeling of being in a storm.
Choosing to shoot in Greece offers an alternative to the look of the "100% Caribbean paradise island," said Östlund. "I wanted an alternative to the conventional 'Survivor' settings. But it's a very beautiful spot in Greece, it's wild and still green, so you get the paradise feeling a little bit. But it's not full of palm trees."
Triangle Of Sadness is being backed by Film I Väst, Essential Films, Coproduction Office, SVT, BBC Films, Arte France Cinéma, ZDF/Arte, Swedish Film Institute, Eurimages, the BFI, Medienboard Berlin-Brandenburg, Danish Film Institute and Nordisk Film & TV Fond.
It is being produced in association with Bord Cadre Films, Sovereign Films and Piano Films.
The co-producers include Marina Perales Marhuenda, Giorgos Karnavas, Konstantinos Kontovrakis, Per Damgaard and Julio Chavezmontes.
SF Studios has Nordic rights to the film, BAC has rights in France and Alamode in Germany.
"I'm proud to have been able to put together the budget needed to secure Ruben's outstanding vision for the film, and still maintain to be an independent Swedish film with full control over the creative," Hemmendorff told Screen.
"It is still a big collaboration and we have more partners on board than ever, but it still feels manageable and organic. Over the years we have, together with Philippe Bober of Coproduction Office, carefully developed relations and co-operations with funders and distributors, so there is a trust, and we are very happy to have found new partners and co-producers to add to that formula."