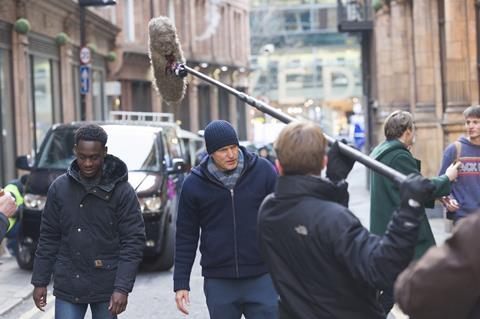 The Production Guild of Great Britain has announced its 2018 awards winners, ahead of the ceremony on Saturday September 22 in Hertfordshire.
The UK production team on Woody Harrelson's live-streamed directorial debut Lost In London will receive the production team of the year award. The film was shot in a single take on January 20, 2017, and broadcast live to more than 550 US cinemas and one UK screen.
Harrelson spoke to Screen about the ambitious project after filming was completed last year.
First assistant director Gareth Tandy will receive the Inspiration award, in recognition of his assistance in developing the careers of other filmmakers. His credits include Superman (1979), Indiana Jones And The Last Crusade (1989) and 45 Years (2015).
Assistant production accountant Ruby Avards will receive the Spotlight award. Her film and TV career includes work on Disney's Cinderella, Netflix's Marco Polo and BBC Films' On Chesil Beach.
The Contribution to the Industry award will go to John and Marija Sargent of Sargent-Disc Ltd. Their business provides payroll, accounting and software services to the entertainment industries.
Harrelson has commented on his film and the award, saying: "There were so many obstacles that seemed almost insurmountable. Some people called it insane and I did think the same myself on a number of occasions! I don't think the team could have done a better job. So thank you all so much for being a part of that great experience and thank you to the Production Guild for proffering this award to these very first-rate artists."
The Production Guild is a UK membership organisation for people working in film and TV production, representing professionals across accounts, production, location management, assistant directing, VFX and post production.
This year's awards will support the charity MAMA Youth Project, which works to equip young people with the skills and experience to secure long-term, fulfilling employment in the film and TV industry, with particular focus on those with limited educational or employment opportunities.
The event will take place at The Grove in Hertfordshire, in association with Warner Bros. Studios Leavesden.