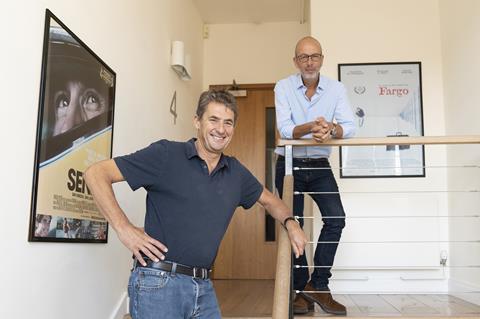 Working Title Films is the inaugural recipient of Screen International's Outstanding Contribution to UK Film award.
The award has been created to honour the achievements of a company or individual whose contributions to UK film have had a significant impact on the reputation of the industry, both locally and internationally.
It will be presented to Working Title's co-chairmen Tim Bevan and Eric Fellner at the Screen Awards on November 29 at The Ballroom, Southbank. Now in their ninth year, the Screen Awards recognise excellence in UK film distribution, exhibition, marketing and publicity.
"The Outstanding Contribution to UK Film award has been created to honour companies and people whose achievements in UK film have enhanced the reputation of the British film industry, creatively, culturally and commercially," said Screen editor Matt Mueller. "By choosing Working Title Films we are honouring all they have already achieved and all they have done for the UK film industry."
Bevan and Fellner have co-chaired Working Title Films since 1992, forging a reputation as one of the UK's leading producers of quality British films that regularly become international hits.
In 2016, the company became the first UK-based production outfit to pass $1bn at the UK box office following the success of Bridget Jones's Baby. On the world stage, Working Title's films have grossed more than $7.5bn and have won 14 Oscars.
Alongside the Bridget Jones films, the company is also behind the Johnny English franchise and a series of successful collaborations with Richard Curtis (including Love Actually and Four Weddings And A Funeral) and the Coen brothers. In 2018, Working Title has had Entebbe, King Of Thieves and Johnny English Strikes Again in cinemas.
As well as the new achievement award, a best UK film category has also been introduced for the 2018 awards, with the winner chosen by Screen readers in an online vote.
To book your table, please visit the Screen Awards website.