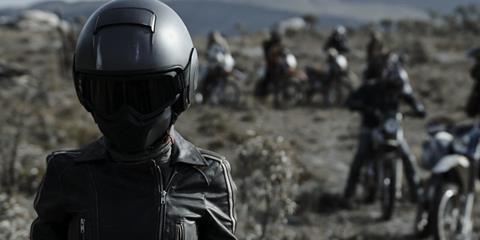 Paris-based WTFilms has picked up worldwide rights to Toronto selection Motorrad and will introduce the Brazilian thriller to buyers this week.
Vicente Amorim's horror thriller will receive its world premiere in the Contemporary World Cinema Section on September 11 and is one of a posse of anticipated titles from Latin America.
Motorrad centres on a young gang of dirt-bikers on a ride across an isolated region of Brazil who find themselves pursued by machete-wielding motorcyclists with murderous intentions. Guilherme Prates, Carla Salle, Emilio Dantas and Juliana Lohmann star.
LG Bayao wrote the screenplay based on characters created by comic book author and Marvel writer Danilo Beyruth. LG Tubaldini Jr and André Skaf served as producers on the festival selection.
The production shot on location in Brazil and is Amorim's third Toronto selection following Good in 2008 with Viggo Mortensen, Jason Issacs and Mark Strong, and The Middle Of The World in 2003 starring Wagner Moura and Claudia Abreu.
WTFilms' team of Gregory Chambet and Dimitri Stephanides will lead the sales push in Toronto. The slate includes Melanie Laurent's drama Plonger (Diving) playing in Special Presentations, as well as documentary Wine Calling and Xavier Durringer's Thailand-set Paradise Beach.