MAY 23 UPDATE: Disney's Captain America: Civil War becomes the first film of 2016 to hit $1bn at the global box office.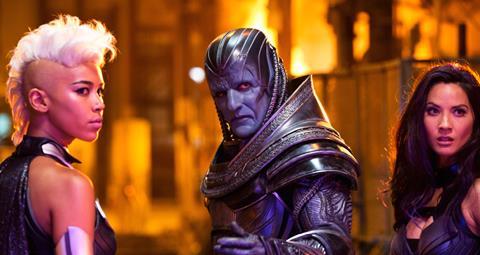 FOX INTERNATIONAL
UPDATE: X-Men: Apocalypse launched overseas with $101.6m from 76 markets, recording number one bows in 71 markets.
It enjoyed the biggest Fox opening weekend ever in six markets: the Philippines ($4.9m), India ($3.4m), Indonesia ($3.1m), Singapore ($2.8m), Thailand ($2.7m) and Colombia ($1.9m).
Overall, the UK led the way with a $10.6m chart-topping bow, followed by Fox's second biggest ever opening in Mexico and Brazil with $8.8m and $6.3m, respectively.
Other highlights included the biggest X-Men opening in Russia with $6.3m and a $6.2m debut in France, despite transportation strikes this weekend. $5m of its overseas debut came from 246 IMAX screens in 57 markets.
The film took an estimated 41% of its overseas debut from 3D screens, withn the leading countries exhibiting in 3D including Brazil (79.4% in 3D), Germany (82%) and Hong Kong (60%). RealD equipped screens grossed $18.4m of the overall debut.
Based on current exchange rates, X-Men: Days Of Future Past delivered an opening weekend of $100m in the same markets. Two of the three biggest markets for DOFP have yet to open: China (June 3) and South Korea (May 25).
Following on from its record-breaking debut, The Wailing (Goksung) fell only 28% to retain the top spot in South Korea with $11.1m for a terrific $32.3m to date.
SONY PICTURES RELEASING INTERNATIONAL
The Angry Birds Movie flew high at the global box office with $94m for an early $150m to date.
Overseas, the animated adaptation targeted an estimated $55.5m from its 83 markets for $112m after two weekends in play.
China posted an excellent $29.2m debut including the biggest opening day of 2016 for an imported animation, while the Netherlands and South Korea launched with $1.5m each.
Of its holdovers, the UK added $2.9m for $6.6m, Russia took $2.6m for $9.5m and Brazil delivered $1.4m for $4.9m.
Ahead of its release in the UK, Germany and Brazil, Money Monster generated $2.8m from its 16 markets for $9.2m so far.
WALT DISNEY STUDIOS MOTION PICTURES INTERNATIONAL
Captain America: Civil War became the first film of 2016 to hit the $1bn mark at the global box office on Friday [May 20].
Marvel's latest now stands at $1.05bn worldwide, making it the fourth MCU outing to achieve the milestone after The Avengers ($1.52bn), Avengers: Age Of Ultron ($1.41bn) and Iron Man 3 ($1.22bn).
Overseas, Civil War fought to an extra estimated $30.7m from its 55 territories for $706.1m to date. It continued its strong run in China with $11.6m for $177.9m to date, while South Korea and the UK stand at $62.1m and $50.1m, respectively.
Civil War is currently the fourth highest grossing superhero film of all time worldwide and the 19th highest grossing film of all time.
The Jungle Book swung to an estimated $7.4m from its 47 territories for $530.2m overseas and $857.7m worldwide. In the UK, it dropped only 12% to add $2.1m for a local tally of almost $60m.
With $981.8m globally, Zootopia is now the fourth highest grossing animated release of all time.
Internationally, it added an estimated $4.7m from its 25 territories for $647.4m. Japan is mainly driven its overseas box office with a 2% boost on its way to $4.3m and a local tally of $42.8m.
LIONSGATE INTERNATIONAL
UPDATE: The Divergent Series: Allegiant has crossed the $100m mark at the international box office.
Driven by a number three $9.9m debut in China, the latest instalment now stands at $104.1m to date overseas.
UNIVERSAL PICTURES INTERNATIONAL
UPDATE: Opening in 10 more territories, Neighbors 2: Sorority Rising partied to a further $5.7m from its 45 territories for $29.6m to date.
Brazil was the top new opener with $385k from 268 dates, while the UK added another $1.1m for $7.2m after 17 days in play and Australia took $774k for an 18-day tally of $4.7m.
The comedy sequel lands in Chile, Cyprus and Mexico next weekend.
The Witch scared up $2.1m from its eight territories for $10.6m overseas. The majority of the weekend came from a $1.4m bow in Mexico, while Germany charted sixth with $290k from 162 dates.
Ahead of the final theatrical release in Japan next weekend, The Huntsman: Winter's War stands at $111.5m overseas and $158.3m worldwide.
The Boss and My Big Fat Greek Wedding 2 stand at $12.6m and $29.2m, respectively.
Warcraft: The Beginning launches in 21 international territories next weekend, including Denmark, France, Germany, Russia, Indonesia and the Philippines.
SMG PICTURES
Chinese-French co-production Night Peacock posted an estimated $3.9m in China, according to ComScore.
EDKO FILMS
Currently playing in six markets, rom-com sequel Finding Mr Right: Book Of Love is now up to $114.3m following an estimated $2.4m weekend.
WARNER BROS PICTURES INTERNATIONAL
Batman v Superman: Dawn Of Justice and How To Be Single stand at $542m and $65m, respectively.