JUNE 6 UPDATE: Paramount's Teenage Mutant Ninja Turtles sequel launches with estimated $34m from 40 markets.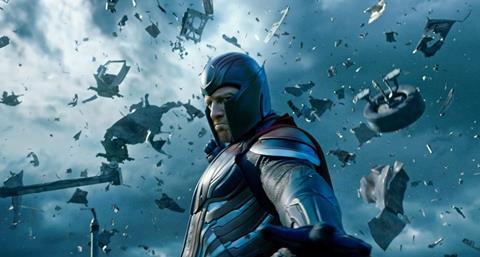 FOX INTERNATIONAL
UPDATE: X-Men: Apocalypse powered to an $84.4m weekend from its 78 markets for $286.2m to date.
The majority of the weekend's haul came from China's $59.6m debut which marks the second highest opening weekend ever for Fox in the market, behind the Titanic re-release.
$6.3m came from 286 IMAX screens for the biggest IMAX opening for Fox in China. Overall, Apocalypse has grossed $14.3m from IMAX screens overseas.
South Korea led the holdovers with a $4.5m second weekend for $18.1m to date, while Brazil ($1.9m for $15.7m), the UK ($1.8m for $22.8m) and France ($1.9m for $12.9m) held well.
Deadpool opened in its final international market of Japan with a chart-topping $6.5m debut from 746 screens.
That's the biggest X-Men opening in the market and the second highest MPA opening of the year. It stands at $409.4m overseas.
Fox International Productions' The Wailing has become the second highest grossing Fox release ever in South Korea, with a $3.1m fourth weekend lifting its tally to $44.4m.
The Other Side Of The Door scared up $925k from its five markets for $10m to date.
PARAMOUNT PICTURES INTERNATIONAL
UPDATE: Teenage Mutant Ninja Turtles: Out Of The Shadows sliced to a $33m overseas debut from its 40 markets, topping the chart in 22 of them.
The UK provided the strongest opening with a preview-boosted $5.1m bow, but narrowly missed out on top spot due to Warcraft. It topped the chart in Russia and Mexico with $4.8m and $4.2m, respectively.
Out Of The Shadows performed strongly in Asia with excellent debuts in Indonesia ($2.1m from 220 cinemas) and Malaysia ($2.1m from 137 sites).
Overall the sequel opened 11% below Teenage Mutant Ninja Turtles based on today's exchange rates, but that film opened with 65% of markets on school holidays compared to 31% for the sequel. Worldwide, it took $2.2m on 375 IMAX screens.
It opens in Australia next weekend, with releases to come in Brazil (June 16), South Korea (June 16), Spain (June 17) and China (July 2) still to come.
WALT DISNEY STUDIOS MOTION PICTURES INTERNATIONAL
Alice Through The Looking Glass sailed to an estimated $30.9m weekend from its 45 territories for $125.5m after two weekends in play.
China continues to be the leading market for the fantasy sequel by some distance, adding $6.6m for $49.5m after only ten days of release.
Europe held well with an overall regional drop-off of 28%, with the UK currently the film's second biggest territory with $10.5m. Its main new opening came in France where Alice charted second behind a local film with a $3.2m debut.
Captain America: Civil War is now the 12th highest grossing film of all time worldwide with $1.13bn. Internationally, it added $4.2m from its 49 territories for $742.6m to date.
Approaching the $900m mark worldwide, The Jungle Book swung to $3.7m from its 37 territories for an overseas tally of $547.6m, ahead of its release in South Korea next weekend.
Zootopia has become the second Disney release of 2016 to hit the $1bn mark worldwide, only the fourth animation of all time to do so and Disney's 11th film to cross the milestone (out of 26 to do so).
Overseas, the animation hopped to an extra $3.6m from its 16 territories for $663.5m, with its North American haul of $337.2m taking it to $1bn.
UNIVERSAL PICTURES INTERNATIONAL
UPDATE: Marching into eight more markets, Warcraft fought to a further $29.5m from its 28 territories for $69.7m to date.
Legendary Pictures and Universal Pictures' adaptation opened at number one in seven of its eight new territories, including a preview-boosted $5.3m bow in the UK, $2.6m in Brazil with 32% market share and $2.5m Spanish debut with 41% market share.
It also achieved Universal's third biggest opening of all time in Turkey with $952k, while Russia led the holdovers with $3.8m for a local tally of $17.3m.
From IMAX screens, Warcraft grossed $1.8m from 130 to lift its international tally to $4.3m. It muscles into more than 750 IMAX screens worldwide next weekend with its North America and China (June 8) releases. By Monday the film had registered $19.64m in advance ticket sales in China.
Warcraft has 37 more territories to open over the next two months and lands in 20 more territories next weekend alongside its North American debut.
Neighbors 2 added $2.4m for an overseas total of $40.8m, while The Huntsman: Winter's War has amassed $115.2m and a $163m global haul.
The Witch and The Boss stand at $13.7m and $12.9m, respectively.
SONY PICTURES RELEASING INTERNATIONAL
Set to fly past $200m early next week, The Angry Birds Movie catapulted to a further estimated $16.7m from its 88 markets for $196.8m after four weeks in play.
China remains its leading overseas market after a $4.4m weekend for $66.7m after three weeks, while the UK fell only 2% with $1.3m for $12.7m and Portugal provided $470k from 82 screens on its chart-topping opening weekend.
The animated video game adaptation lands in Italy on June 15 and Japan on Oct 1.
Money Monster opened in 42 new markets for an $8.3m weekend from its 82 markets and an early $28.3m.
Australia got off to a solid start as it banked $1.7m, including previews, from its 206 screens, Russia opened with $630k from 603 screens and Argentina impressed with a $450k bow.
It opens in Japan next weekend, followed by Mexico on June 17, Spain on July 8 and South Korea on Sept 1.
CJ ENTERTAINMENT
Park Chan-Wook's The Handmaiden scored an estimated $12.75m debut in South Korea, according to ComScore. It opens in France on Oct 5.
WARNER BROS PICTURES INTERNATIONAL
UPDATE: Me Before You posted a strong $8.2m overseas bow from 1,858 screens in its 16 markets.
The UK led the way with $2.6m to top the market over Fri-Sun, followed by a $1.7m debut in South Korea, an $857k opening in Thailand and a $759k number one debut in Norway.
Me Before You opens in Australia and Brazil on June 16 and Germany on June 23.
BLOOM
Currently playing in 21 territories, The Nice Guys added an estimated $5.5m for $12m to date overseas, according to ComScore.
Pathé International
Keeping Alice Through The Looking Glass off the top spot in France was Eric Lavaine's comedy Back To Mom's with an estimated $4m bow, according to ComScore.
LIONSGATE INTERNATIONAL
Now You See Me 2 made its international debut in Australia where it charted number one for the weekend wtih $2.12m from 250 screens.