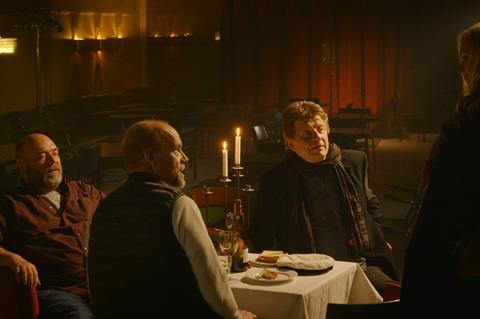 The Yellow Affair has boarded world sales for Mika Kaurismäki's Gracious Night, which will screen in competition at the 24th Tallinn Black Nights Film Festival (November 13-29).
Gracious Night is about three men who bond over a long night of fine wine and intellectual discussion, on what could be the final night for a Helsinki bar under serious financial pressure during lockdown.
The barman serves his friend, a frontline healthcare worker who worked a tragedy-filled shift. A stranger comes in looking for a phone charger and they worry he could be connected to a reported murder.
The film is based on an original idea by Mika Kaurismäki and the screenplay is written by Kaurismäki and Sami Keski-Vähälä. Kaurismäki also produces for his own Marianna Films Oy.
The cast includes Timo Torikka, Pertti Sveholm, Kari Heiskanen and Anu Sinisalo. SF Studios will distribute the film in Finland and other Nordic countries.
The film was shot during lockdown at Helsinki's famous Corona Bar (owned by the Kaurismäki brothers).
Mika Kaurismäki said, "I'm very pleased I was able to pull this film off in these difficult times. It is a collective effort by all involved. It makes us very happy the Tallinn Black Nights Film Festival chose it in their competition even before it was completely finished. I'm also very happy I can continue our long-time collaboration with the sales company The Yellow Affair."
The Yellow Affair also sold Mika Kaurismäki's Master Cheng, which won audience awards in Mill Valley and Nordic Film Days in Lübeck and continues its international release in early 2021.