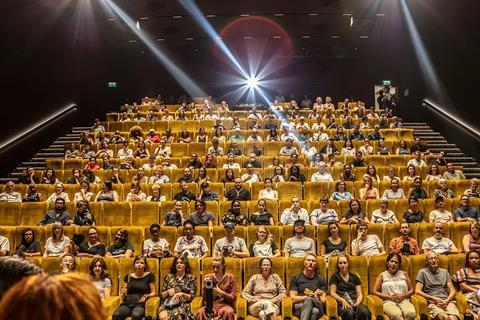 Zurich's six screen Kosmos cinema, a key cinema venue for the Zurich Film Festival (ZFF), is to re-open in time for the 19th edition of the Swiss festival after closing due to bankruptcy in 2022.
The cinema will reopen on September 28 under the name Frame and will screen movies all year round. ZFF runs from September 28 to October 8.
The cinema and its event spaces will be operated by Spoundation Motion Picture AG (SMP), the marketing and events agency behind ZFF. Programming will be handled by ZFF. SMO is now renting the former Kosmos House of Culture cinemas from SBB Real Estate.
"The ZFF has been committed to cinema since its inception," said artistic director Christian Jungen. "Which is why we are delighted that we will soon be able to bring back the magic of film to the screens of these magnificent movie theatres – and it's not just the young audiences of Zurich that love them, but stars like Charlotte Gainsbourg, Oliver Stone and Ray Parker JR. have also been impressed by their technology and comfort."
ZFF plans to programme a namely a broad spectrum of productions at the cinemas throughout the year, ranging from upscale mainstream movies like James Bond or Avatar to arthouse films and documentaries. Films from the ZFF programme will malso screen at Frame and be promoted by the festival.
Frame gives the ZFF, which has so far been visible mainly during its eleven festival days, a year-round presence. "Over the past four years, the Zurich Film Festival has already built up a young regular audience at this important venue. With the opening of Frame, we can once again fill this technically advanced and highly comfortable cinema with life while simultaneously giving the ZFF its very own home and a year-round presence," added Jungen.
Jennifer Somm, managing director of Spoundation Motion Picture, led negotiations with the SBB, the owner of the cinema.