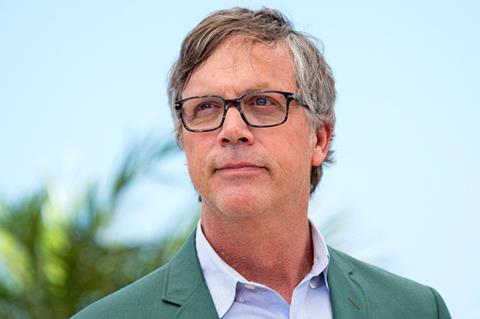 The Zurich Film Festival (ZFF) has unveiled a line-up of 148 films for its 2023 edition which takes place from September 28 to October 8.
The festival's Focus Competition – which showcases feature films and documentaries from Germany, Austria and Switzerland - has six world premieres. They include Swiss films The Driven One by Piet Baumgartner, a long-term study of students at the elite university HSG St. Gallen, and road movie Return To Alexandria by Zurich-based Tamer Ruggli, which stars Nadine Labaki and Fanny Ardant.
Scroll down for Focus and Feature Film Competition line-up
Other world premieres in the Focus section are German films Harraga – Those Who Burn Their Lives by Benjamin Rost and Jupiter by Benjamin Pfohl, as well as Swiss-Italian production Lonely by Michele Pennetta and Swiss feature Las Toreras by Jackie Brutsche.
Fourteen films are programmed for the Feature Film Competition section with international premieres including Pietro Castellitto's Enea, Iris Kaltenbäck's The Rapture and Anatol Durbală's Varvara. Saudi Arabian feature Mandoob by Ali Kalthami has its European premiere in the feature film competition, as does US director Chloe Domont's Fair Play.
Some 35 films will have Gala premieres at Zurich including recent festival hits such as Bradley Cooper's Maestro, Yorgos Lanthimos's Poor Things, Sofia Coppola's Priscilla, Emerald Fennell's Saltburn and Jonathan Glazer's The Zone of Interest.
There are four world premieres in the Gala section: Michael Noer's Birthday Girl from Denmark, Kilian Riedhof's German-Swiss production Stella. A Life, Hans Steinbichler's Austria-German feature A Whole Life and Micahel Steiner's Early Birds from Switzerland.
Five Swiss features have out of competition world premieres as special screenings. They include Jan-Eric Mack, Anca Miruna Dunga and Christian Theede's Davos 1917; Thomas Thümena's Himmel Über Zürich; Yannick Mosimann's Normal Love; Claude Baechtold's Partners (Have A Nice Trip); and Valerien Schmidely and Hans Trommer's Romeo Und Julia Auf Dem Dorfe.
The Swiss festival's Golden Icon honouree this year is Jessica Chastain, who will present a gala screening of Memory alongside director Michel Franco and co-star Peter Sarsgaard.
Zurich will also honour Todd Haynes with A Tribute to…Award which will be presented to the director during a gala screening of his latest film May December starring Julianne Moore and Natalie Portman.
Stars including Diane Kruger, Ethan Hawke, Wim Wenders, Michael Steiner, Paula Beer, Katja Riemann, Trine Dyrholm and Peter Doherty are set to attend the ZFF to present their latest works.
This year's programme includes 148 films with 52 world and European premieres – 14 more than last year.
"We're delighted to be able to offer our audience a record number of world and European premieres. This high number reflects the ZFF's growing reputation in the global film industry. The Zurich Film Festival is the perfect festival to boost the prestige of films for the upcoming award season," said Christian Jungen, artistic director of the ZFF.
Focus Competition
27 Storeys (Austria-Ger)
Dir: Bianca Gleissinger
Blackbird Blackbird Blackberry (Switz-Georgia-Ger)
Dir: Elene Naveriani
Dead Girls Dancing (Ger-Fr)
Dir: Anna Roller
Europa (Austria)
Dir: Sudabeh Mortezai
Harraga – Those Who Burn Their Lives (Ger)
Dir: Benjamin Rost
Hollywoodgate (Ger-US)
Dir: Ibrahim Nash'at
Jupiter (Ger)
Dir: Benjamin Pfohl
Laissez-Moi (Let Me Go) (Switz-Fr-Bel)
Dir:Maxime Rappaz
Las Toreras (Switz)
Dir:Jackie Brutsche
Leere Netze (Empty Nets) (Ger-Iran)
Dir: Behrooz Karamizade
Lonely (Switz-It)
Dir: Michele Pennetta
Retour En Alexandrie (Back To Alexandria) (Switz-Fr)
Dir: Tamer Ruggli
The Driven Ones (Switz)
Dir: Piet Baumgartner
Wald (Woodland) (Austria)
Dir: Elisabeth Scharang
Feature Competition
Àma Gloria (Fr)
Dir: Marie Amachoukeli
Enea (It)
Dir: Pietro Castellitto
Fair Play (US)
Dir: Chloe Domont
Femme (UK)
Dirs: Sam H. Freeman, Ng Choon Ping
Hesitation Wound (Tur-Sp-Rom-Fr)
Dir: Selman Nacar
How To Have Sex (UK-Gr)
Dir: Molly Manning Walker
Le Ravissement (The Rapture) (Fr)
Dir: Iris Kaltenbäck
Mandoob (Saudi)
Dir: Ali Kalthami
Melk (Neth)
Dir: Stefanie Kolk
Slow (Lith-Sp-Swe)
Dir: Marija Kavtaradze
Stolen (India)
Dir: Karan Tejpal
The Hypnosis (Swe-Nor-Fr)
Dir: Ernst De Geer
The Red Suitcase (Nep-Sri Lanka)
Dir: Fidel Devkota
Varvara (Mold-Rom)
Dir: Anatol Durbală