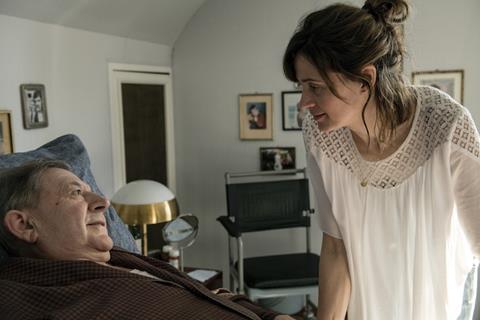 The Zurich Film Festival is to open with the world premiere of Bettina Oberli's My Wonderful Wanda, marking the first time a female-directed feature has opened the event.
The Swiss tragi-comedy was originally set to debut at Tribeca in April but those plans were abandoned when the festival was postponed due to the Covid-19 pandemic and has subsequently been cancelled.
It will now open the 16th ZFF, which is pressing ahead as a physical event and due to run September 24 to October 4.
The film centres on Wanda, a Polish carer for an elderly man in his lakeside villa. Her relationship with her employer and his family is altered when she falls pregnant. The production shot in a villa on the shores of Lake Zurich.
Agnieszka Grochowska leads the cast as Wanda and the ensemble includes Marthe Keller, André Jung, Birgit Minichmayr, Jacob Matschenz and Anatole Taubman. Cooky Ziesche co-wrote the screenplay with Oberli and world sales are handled by The Match Factory.
It marks the sixth feature from Oberli, whose previous feature With The Wind won the Piazza Grande award at Locarno in 2018 and the Zurich Film Award at ZFF in 2019. My Wonderful Wanda won last year's ZFF Filmmaker Award, which supports Swiss film projects in the production and post-production phases.
Filmcoopi Zürich will release the film in German-speaking Switzerland on November 26.
Despite the ongoing Covid-19 pandemic, ZFF has said many of the features would be presented personally by filmmakers where possible, and previously revealed its first gala titles. The complete programme will be announced on September 10.
The festival is also set to host its first industry market, which it is launching following cancellations on the film circuit due to the pandemic.
Switzerland has now eased lockdown measures and re-opened its land borders, and events of up to 1,000 are permitted. Cinemas were allowed to reopen from June 6.