Plus: Gravitas Ventures acquires My Father's Vietnam; and more…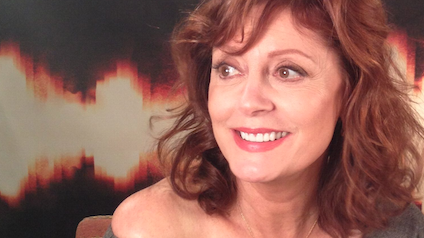 Susan Sarandon will receive the Cinema Icon Award at the National Association Of Theatre Owners (NATO) convention on April 14.
Sarandon will next be seen in The Meddler, which opens on April 22 via SPC, and her credits include Thelma And Louise, The Witches Of Eastwick, The Rocky Horror Picture Show, Lorenzo's Oil, and Dead Man Walking, for which she won the lead actress Oscar in 1996. CinemaCon is set to run at Caesars Palace from April 11-14.
Gravitas Ventures has picked up VOD and home video rights from Circus Road Films to Soren Sorensen's My Father's Vietnam. The documentary will debut on May 24.
AEG and Regal have partnered with Barco to announce a multi-year, strategic partnership to create Regal L.A. LIVE: A Barco Innovation Center. The current Regal Cinemas L.A. LIVE, owned by AEG, will transform into a creative hub for all of Barco's cinema technology, including immersive sound and phosphor laser projection. The deal also marks the first and only naming rights partnership for an entire theatre complex.
Toronto-based Buck Productions president Sean Buckley has hired Jason Rogers as support producer and social media strategist. Rogers has worked on various multimedia projects such as Ubisoft's Far Cry: Primal, and the thriller Birdland.
Cinelicious Pics will re-release theatrically and on VOD and Blu-ray this summer its new 4k digital restoration of Leslie Stevens' 1960 thriller Private Property starring Warren Oates.
You Did It! Productions has joined forces with Mona Vista Productions on Will Gardner. Max Martini and Michael Hagerty of Mona Vista will produce the drama with Lee Ettinger, Devin Cutler, and Stewart Hall of YDIP, and Tony Mark. John Dahl is attached to direct.
Arts Alliance Media has launched its Thunderstorm platform. The cloud-based online marketplace enables cinemas to access technology tools to enhance customer engagement and boost revenues while managing commercial relationships centrally.