War drama to be submitted for the Best Foreign-Language Film category.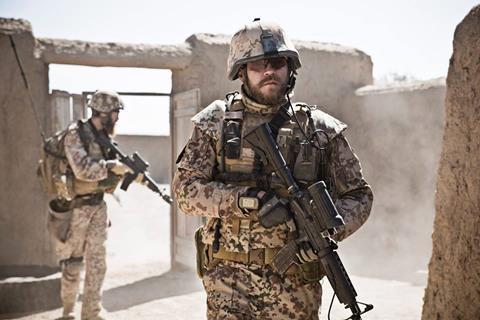 Denmark has selected Tobias Lindholm's A War as its entry to the Best Foreign-Language Film Category at the 88thAcademy Awards.
The feature, which premiered at this year's Venice Film Festival in the Horizons competition, is the story of a Danish military commander who is captured by the Taliban and accused of a war crime when he returns to Denmark.
The national selection commitee selected the film, which was released in Denmark on Sept 10 and is headed for festivals in Zurich and Reykjavik.
A War was picked from a shortlist of three which also included Anders Thomas Jensen's Men & Chicken and Joshua Oppenheimer's documentary The Look of Silence.
Henrik Bo Nielsen, CEO of the Danish Film Institute and chair of the committee, said the committee chose Lindholm's drama as it believed the film "would have the greatest chance to seize the attention of the Academy members".
"Lindholm has previously shown Oscar muscle as the scriptwriter behind Thomas Vinterberg's 'The Hunt' which was one of the five Oscar-nominated films in 2014.
"With its captivating drama and the director's unique take on the story, we consider A War a strong bid."
Denmark last made the nominations for Best Foreign-Language Film in 2014 with Thomas Vinterberg's The Hunt and won the category in 2011 with Susanne Bier's In a Better World.
A War
It marks the third film to be directed by Lindholm after R (2010) and A Hijacking (2012).
The Danish auteur reunites the star of his two previous films, Pilou Asbaek, and cast Danish soldiers who served in Afghanistan to round out the players.
Nordisk produces with support from DR and the Danish Film Institute.
Magnolia has acquired US rights, Nordisk will release across Scandinavia, and StudioCanal will distribute in France, Germany, UK, Australia and New Zealand.
The announcement of the five foreign-language films nominated for the Oscar is made on Jan 14, 2016.
The 88th Academy Awards will take place at the Dolby Theatre in Hollywood on Feb 28, 2016.
Danish Oscar Entries: Feature Films
2015 Sorrow and Joy / Nils Malmros
2014 The Hunt / Thomas Vinterberg / Nominated
2013 A Royal Affair / Nikolaj Arcel / Nominated
2012 Superclásico / Ole Christian Madsen / Shortlist
2011 In a Better World / Susanne Bier / WINNER
2010 Terribly Happy / Henrik Ruben Genz
2009 Worlds Apart / Niels Arden Oplev
2008 The Art of Crying / Peter Schønau Fog
2007 After the Wedding / Susanne Bier / Nominated
2006 Adam's Apples / Anders Thomas Jensen
2005 The Five Obstructions / Jørgen Leth and Lars von Trier