Nine-person Foreign Language jury selects Cannes hit from director Maren Ade.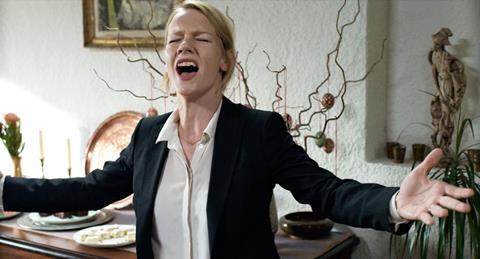 Germany has selected Cannes hit Toni Erdmann by Maren Ade as its submission for the Best Foreign Language Film Oscar.
Ade's well-sold comedy about a father who tries to reconnect with his adult daughter stars Sandra Huller and Peter Simonischek.
The film, considered by many to be a strong contender to make the final shortlist, is a production by Komplizen Film, in co-production with the Austrian coop 99 Filmproduktion, knm (Monaco) and Missing Link Films.
The decision was taken by an independent jury appointed by German Films, comprising Karsten Stöter, Katharina Rinderle, Julia Weber, Jasna Vavra, Christoph Preßmar, Dunja Bialas, Felicitas Darschin, Sven Burgemeister and Heide Schwochow.
The nine-person jury said of its decision: "Toni Erdmann stood out among the eight submitted films with its resolute artistic signature. A bold and stylistically confident cinematic display of character on the pulse of the times. Maren Ade manages to turn 162 minutes of film into a humorous, unmasking stroll through the nuances of a father-daughter relationship.
"Universal topics like social isolation and the challenge of interpersonal integrity are skillfully dissected. Touching, evocative, implementing societal questions, and an unswerving artistic clarity. Just as modern international cinema should be."
Also in the running were At Eye Level, Look Who's Back, Fog In August, Power To Change – Die Energierebellion, The People Vs. Fritz Bauer, The Diary Of Anne Frank and Stefan Zweig: Farewell To Europe.
The Academy of Motion Picture Arts and Sciences (AMPAS) will announce teh shortlist for the Foreign Language category on 17 January, 2017. The announcement of the five films nominated will take place on 24 January, 2017.