Yuval Delshad's debut centres on a a family of Iranian immigrants.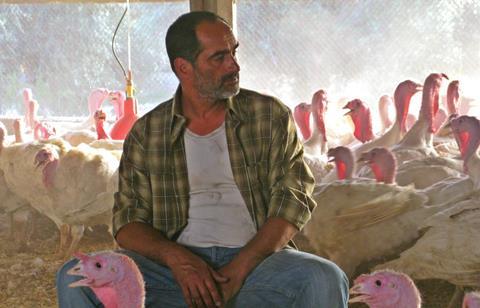 Fresh from its Toronto world premiere and still unreleased at home, Yuval Delshad's debut feature, Baba Joon beat all the competition in sight to be crowned Israel's best film of the year at the annual Israeli Film Academy Awards ceremony.
As such, it will represent Israel for next year's Foreign Language Oscars.
Delshad's Farsi-spoken drama portraying the conflicts inside a family of Iranian immigrants living off a turkey farm in the south of Israel picked up five Ophir awards, including best film, best music, best cinematography, production design and casting.
Significantly, all three of the film's adult leads, including Navid Negabhan (Homeland) are non-Israeli Iranian actors living in the West.
Sharing second place, Erez Tadmor's Eretz Petzhuah (Wounded Land), took home three awards for best director, best actor and best make-up while Elad Keidan's Hayored lemaala (Afterthought) collected prizes for best script, best editing and best sound design.
The first, inspired by real life incidents, shows a city in panic after a terrorist attack, while the second follows two characters facing many of the country's issues, each from his own personal perspective, the first going on his way up, the other on his way down the staircases crossing Mount Carmel in Haifa.
Afterthought was first unveiled earlier this year in Cannes' Special Screenings section.
For United King Films - involved in the production of both Baba Joon and Wounded Land - the ceremony confirmed their position as the undisputed leaders not only of the Israeli cinema production, but of its distribution and exhibition as well.
If there was a loser, it was another United King Films, Hamilim HaTovot (The Kind Words), directed by Shemi Zarhin, nominated in no less than 12 different categories but left unrewarded.
Still, as the box office leader of the year, The Kind Words can certainly console itself with the massive audience approval, whatever the industry's opinion.
The Best Documentary Award went to Mor Loushy's Censored Voices which reveals for the first time intimate and candid conversations recorded in 1967 between writer Amos Oz and soldiers who fought in the Six Days War, footage that was censored ever since and made public only now.
Alon Garbuz, head of the Tel Aviv Cinematheque for the last 42 years, was awarded the Life Achievement distinction for his steadfast support of the Israeli cinema, which has always found under his auspices an open door to show its products, even at its most difficult times when it was shunned by the rest of the country's cinemas.
The award comes only a few days before Garbuz is supposed to retire, though there is still no heir in sight to take over his job.
Culture and Sports Minister Miri Regev, unfazed by several oblique ironic remarks made in the course of the ceremony referring to her right wing policies, refrained from any immediate response to requests for increasing state support to film production.
Instead, expressing her satisfaction with the recent performance of Israeli cinema, she said she intends to create a special budget, to be allocated for its promotion abroad.
Full list of winners
Best Film – Baba Joon
Best Director – Erez Tadmor for Eretz Petzuah (Wounded Land )
Best Actor – Ro'I Assaf for Eretz Petzuah (Wounded Land)
Best Actress – Moran Rosenblatt for Chatouna Me'Niyar (Wedding Doll)
Best Supporting Actor – Norman Issa for Milchemet 90 Hadakot (The 90 Minutes War)
Best Supporting Actress – Dvora Keidar for Tziporei Khol (Fire Birds)
Best Script – Eldad Keidan for Hayored Lemaala (Afterthought)
Best Cinematography: Ofer Inov for Baba Joon
Best Editing – Arik Lahav Leibovitz for Hayored Lemaala (Afterthought)
Best Production Design – Yehuda Echo for Baba Joon
Best Costumes – Keren Eyal Melamed for Chatouna Me'Niyar (Wedding Doll)
Best Make-Up - Orly Ronen, Shiran Cohen Heyman for Eretz Petzuah (Wounded Land)
Best Original Music – Eyal Said Mani for Baba Joon
Best Sound Design – Vitali Grinshpan, Aviv Aldema for Hayored Lemaala (Afterthought)
Best Casting – Noa Ella for Baba Joon
Best Documentary – Mor Loushy for Siach Lochamim, Haglilim Hagnuzim (Censored Voices)
Best Short (Documentary) – Julie Schlez for Merushashot (Bankrupted)
Best Short (fiction) – Jonathan Dekel for April 1st