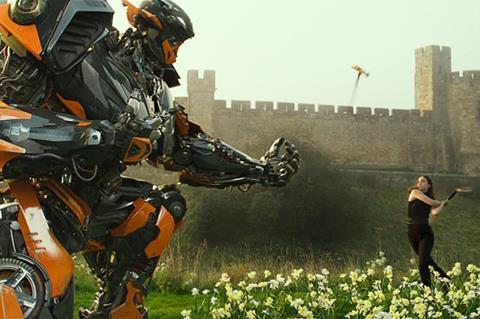 Paramount Pictures and Hasbro have announced that they will be teaming up to produce and distribute content based on Hasbro brands, as well as original ideas.
Hasbro's Allspark Pictures and Allspark Animation will play an active role alongside Paramount Pictures in development and production on live-action and animated films. The new pact lasts for five years.
The two companies are expanding on an existing relationship. Hasbro and Paramount have partnered on five Transformers movies to date, as well as two G.I. Joe films, and the first Transformers spinoff, Bumblebee, is slated for December 2018.
The terms of the deal are not being disclosed, however, the companies are saying that Paramount and Hasbro will partner on financing projects at varying levels of investment, and Paramount will distribute the projects produced during the five year term of the deal worldwide. Paramount and Hasbro will also collaborate on television programming.
Hasbro recently hired Greg Mooradian as president of Allspark Pictures, with responsibility for live-action film and television. Allspark Animation is led by Hasbro's Meghan McCarthy. Hasbro acquired Boulder Media in 2016, a leading animation studio based in Dublin, Ireland, to produce its television and film animation.
Hasbro Studios, which Hasbro founded in 2009, distributes TV and digital content to more than 190 territories globally. The entertainment division reports to Hasbro's chief content officer, Stephen Davis.
"Paramount has been a valuable partner of Hasbro's for more than a decade, and we're looking forward to taking our relationship to the next level," Brian Goldner, chairman and CEO of Hasbro, said. "Storytelling, in its many forms, is revolutionising our business and differentiating Hasbro in all sectors where we operate. We look forward to collaborating with the talented team at Paramount to create powerful new stories for children, fans and families globally."
Paramount Pictures chairman and CEO Jim Gianopulos said: "Hasbro has an enormous array of exceptional brands, so this expansion of our relationship is incredibly exciting. We look forward to working with Brian Goldner and Stephen Davis and the Hasbro and Allspark teams to create extraordinary film properties for all audiences."