UK production Powder Room, starring Sheridan Smith, Jaime Winstone and singer Kate Nash, marks a number of exciting firsts, including the directorial debut of MJ Delaney, famous for her YouTube sensation spoof Newport State of Mind.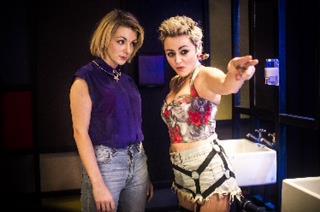 Unlike most features, Powder Room's journey to production was quick and relatively painless.
After the significant success of The Iron Lady, producer Damian Jones had around £100,000 to invest in either a UK production or script development courtesy of the BFI's Locked Box scheme [a pool of money recouped by the BFI from investment in a successful production, which it then reinvests in the producer].
Unlike a handful of producers before him Jones decided to make a low-budget film, rather than channelling the money into development. He chose Powder Room as his quick turnaround feature.
"Giving talented producers creative and financial autonomy to build their development and production slates is absolutely key to so many of the plans we've set out in Film Forever", director of the BFI Film Fund Ben Roberts told Screen. "We're looking forward to seeing more examples of this as we roll out further initiatives to empower production companies."
The film, about a woman's life unravelling during a big night out with friends, started life as a 2009 stage comedy, When Women Wee, co-written by Rachel Hirons.
The idea for the uncompromising show, which offered a voyeuristic insight into the "nightly break ups, breakdowns and breakthroughs" of women on a night out, was partly inspired by a clubbing trip on which Hirons overheard two women talking candidly in a cubicle of a womens' toilet: "They were talking about anal sex in a really graphic and funny way," she recalls. "During their conversation my faith in women – which had recently been shaken by a friend who claimed that women don't dress for men but for other women as a form of competition - was restored. It made me want to show women as they really are, in an unedited form. There is something beautiful in portraying the truth."
The play started at the Edinburgh fringe before transferring to London's fringe and then The Soho Theatre, where it played to packed audiences. One day during the run Hirons got an email from Jones, who had recently seen the play: "He said he was interested in making a film. I had to meet him to believe it was true!" she says with a laughs.
Soon after, Jones - who also has Amma Asante's Belle in post — attached commercials and Coming Up director MJ Delaney, famous for her hilarious YouTube sensation spoof Newport State of Mind.
"Bridesmaids proved you could write a film for women about women," says the director, who was excited to take on a film with such a strong female focus. "This film is very much representative of its time. It is about first world problems and is an antidote to all those types of films that don't pass the Bechdel test [Hirons and Delaney are both quick to tell me that the film passes the famous online-originated test - used to identify gender bias in fiction. A work passes the test if it features at least two prominent women characters who talk to each other about something other than a man]. But it is shocking that it's 2013 and women are only now having their moment in cinema. It's an industry wide issue. You know, as a percentage of their respective industries, there are more women directors in Iraq than in the US!"
Hirons covered a lot of ground in a short space of time: "As it stood there was no storyline. It was more a combination of experiences and conversations, it was more of a sketch show." The ensuing script re-writes, between Hirons, Jones and producer Nichola Martin, took only three or four months, during which time the team assembled its impressive cast.
"Sheridan was the first component," says Jones. Delaney describes the in-demand actress, famous in the UK for hit musical Legally Blonde and long-running TV series Two Pints of Lager and a Packet of Crisps, as "a force of nature": "We lucked out by managing to get her for a tiny window between jobs," she explains. In 2012 Smith appeared in Dustin Hoffman's Quartet and thriller Tower Block, on stage in the acclaimed Hedda Gabler and on TV in Mrs Biggs.
Despite Jones and Hirons only meeting in May 2012, the project was ready to shoot by December of the same year.
The bubbly Smith, who in the summer will play opposite David Walliams in Michael Grandage's West End production of A Midsummer Night's Dream, told Screen: "It was so much fun. It was a brilliant story from the get-go. My character is a lovely girl but she has lost her way and is down on her luck. She doesn't think she's pretty enough. She's insecure. Like so many girls she feels like she's not good enough. When she meets some old friends from school she tells a white lie and things unravel from there. There's a lovely message to the film, though: you don't have to have all the extras to be happy and real friends are vital."
Alongside more experienced actresses Smith, Jaime Winstone, Oona Chaplin and Riann Steele the production cast acclaimed singer Kate Nash in her third feature. Nash - who tellingly features on the Bridesmaids soundtrack - has recently acted in US indie dramas Greetings from Tim Buckley and Syrup: "I got acting representation in 2010," the singer-songwriter told Screen. "I originally trained in the theatre but it was only recently that I was contacted by a manager in LA. It has worked out really well. This is my first British film. I've respected all these actresses for such a long time so it has been a lot of fun to work with them. I knew it was rare material when we were making it. There was one scene that really reminded me of Bridesmaids, for example. There need to be more examples of this kind of film."
The production shot at 3 Mills Studios - the east London venue is increasingly a go-to for UK indie productions [The Hooligan Factory is next up] - and did a few days in and around the capital. The pared-back budget proved a challenging change of pace for Jones, used to working on bigger films, but the production was propelled by a combination of his experience, and the adrenaline and raw talent of his cast and crew: "It was a very good team of young filmmakers and designers," he says. "It was exciting. Bar me, it was most of the crew's first film. During the shoot, producers Nichola Martin and James Cotton did most of the hard graft."
Pinewood Films came on board as equity partners as part of a post-production deal and Jones hopes to be able to take the film to the Cannes market.
As for Hirons, the writer says she has "got the film writing bug" and has just finished a feature treatment of her latest play A Guide to Second Date Sex, which also went from the Edingburgh fringe to The Soho Theatre: "There are several film producers interested," she says. The writer is also working on the pilot of a sitcom.
Director Delaney is working on a feature adaptation of '90s teen novel The Madolescents, about a group of Newcastle teens in therapy, which has development backing from the BFI.
Is Powder Room really a low budget UK version of Bridesmaids or a companion piece to The Inbetweeners Movie? "That'd be nice," Jones grins. "I'd take either."
Would he do another low-budget film again? "I don't know yet. Let's get through this one first," he laughs.