Aardman talked to Screen in Annecy about future projects - including the Eddie Redmayne-voiced Early Man - BFI support and learning curves.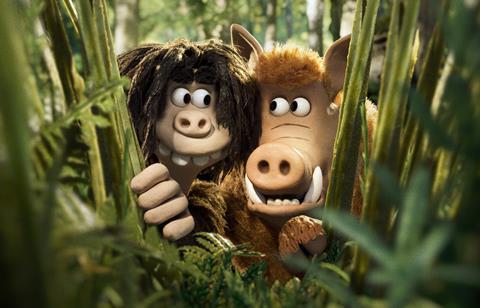 Aardman Animations is the most successful animation company in British film history; its films have generated worldwide box office revenue of close to $1 billion and it is a cherished international brand.
Despite its global success, however, Aardman still considers itself to be a niche player in the ultra competitive US animation market.
The contrast was acknowledged by Aardman founders Peter Lord and David Sproxton in an interview with Screen at the Annecy International Animated Film Festival last week.
Sproxton and Lord were in Annecy to give a keynote address, Aardman At 40, and to collect a "personality of the year award" from the festival.
US giants
The company, which has worked closely with DreamWorks and Sony in the past, now finances its films in Europe, often on smaller budgets than those commanded by the US studios.
"We are a big European studio but tiny compared to the American studios," Lord said.
Sproxton modestly likened the performance of Aardman movies in the US to that of foreign-language films like Polish Oscar winner Ida in the British market.
2015 feature Shaun The Sheep Movie took $20m in the US but four times that in the rest of the world. 2012 title The Pirates! Band Of Misfits grossed $30m in the US but three times that on the international stage. The company's biggest US hit came with ground-breaking 2000 feature Chicken Run which took more than $100m at the US box office.
"Having worked at DreamWorks and being pretty familiar with DreamWorks and Pixar, the thing I am jealous about is the incredible depths of their pockets, which means that they have a huge talent base," Lord said.
"They have directors, production designers and storyboard artists in huge heaps lying around the place!"
"In a way, it was brilliant going into DreamWorks because the talent base there was fantastic and it was great to be able to tap into that talent base," Sproxton recalled of Aardman's collaboration with the US animation juggernaut.
"We've got a great talent base, just not necessarily as deep and as rich as theirs."
Aardman Animations was actually founded in 1972 and the creative collaboration between Sproxton and Lord stretches back to their grammar school days in Woking, Surrey, in the 1960s.
But it was in 1976 that they set up in Bristol and first started working for the BBC's Vision On and Take Hart TV shows. The name 'Aardman' was partly based on the animal the aardvark and Superman.
"We have complementary skills. Very early on, we realised we suited each other's skillset. I am more behind the camera and (the) producer and organiser. Peter is more in front of the camera - artist, writer and animator extraordinaire," is how Sproxton characterised their very long-standing partnership during the keynote address.
Learning curve
From early days experimenting with pixelation and plasticine, the duo have built up Aardman into a globally recognised and much-loved brand. They've also helped animation to become part of mainstream British film culture.
Given the challenge to compete with the US majors, Sproxton and Lord pointed out that alongside private backing from Studiocanal, public funding from the BFI for the company's latest feature, Nick Park's Early Man, has been crucial.
"Frankly, without it [BFI support], it [Early Man] wouldn't have been possible," Lord stated. "Funding a film like Early Man is at the edge of what is possible."
There are already close links between the BFI and Aardman. In autumn 2014, Aardman partnered with the BFI to launch BFI Aardman Animation Development Lab.
"If you're taking that American money, which is where those big budgets are, they're looking at the American market. We know that our European, British sensibilities won't play as well or as strongly as an all-bells-and-whistles American movie, particularly in the Midwest," Sproxton said.
"That's the big learning curve we've had over the years - our films are distinctly European."
Early Man, which will feature the voice of Eddie Redmayne among others and is due to be released in 2018, has a roughly similar budget to that of Chicken Run.
"The producers have to be very smart to make a pretty ambitious film within that budget," said Lord, who wouldn't confirm the exact figure but said it was less than $50m.
As production on Early Man continues and a new Shaun The Sheep movie continues its gestation (it is still at story stage), Aardman has several other feature projects in development.
TV series and VR work
"There are four or five different (feature) projects at different stages…if we can stay focused and with a following wind, we should have a nice steady flow of feature projects," Lord said.
"Some are stop frame and some are CG. No, there are no more Wallace and Gromit movies in the pipeline. But we are working on a six-part series slightly linked to that world," Sproxton said.
The company is also experimenting with virtual reality (VR). Aardman recently worked with Google Spotlight on 360 degree short Special Delivery, directed by Tim Ruffle, created primarily for mobile devices.
Aardman also recently collaborated with the BBC on VR/CGI short We Wait, a refugee story about a terrified Syrian family crossing the sea (which screened recently at Sheffield Doc/Fest).
"It is quite a profound story, quite an emotionally charged story, putting you into a position where you are sitting in a rubber boat on the sea," Sproxton said of the film.
"It's a stylised world. From the BBC's point of view, it is slightly experimental. For us, it was about how can we tell the story and how can we get the emotional impact."
"People don't know yet how and whether VR will ever be a shared experience. Maybe it never will be - or only in the sense that we will all be in each others' virtual reality… it's a very odd environment. As a personal experience, it is spectacular but as a shared experience, it is pretty weird still at the moment - but fascinating and a great thing to join in.
"I am sure we will do more. It feels like the new frontier in a good way - both in the way it is going to be enjoyed and in the storytelling that is evolving so fast. It has immense potential."