Screen canvasses industry opinion on Langan's tenure and the prospects for one of the UK's cornerstone funders.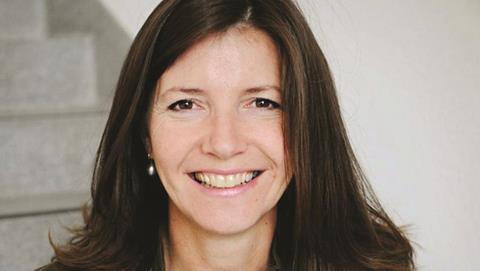 There have been warm tributes to Christine Langan as news broke yesterday of her impending departure from BBC Films to join UK production outfit Baby Cow.
Attention is also now beginning to turn to who is likely to be her successor and what plans the BBC has for its film arm in the long run.
"Christine leaves BBC Films in good shape," commented producer Stewart Mackinnon of Headline Pictures, who worked with the broadcaster's film arm on titles including Quartet and The Invisible Woman, among other projects.
Pride producer David Livingstone noted Langan's "incisiveness."
"The thing I remember particularly about Christine is her giving very good notes about the final editing of the film (Pride). She was very clear and very precise, and with a light hand on the tiller," Livingstone said.
"Obviously, them (BBC Films) coming on board the film was what allowed it to get made. If they hadn't come on board, and if the BFI hadn't come on board, there would have been no Pride."
BBC brand
Alex Hamilton, managing director of Entertainment One UK, which has worked with BBC Films recently on David Brent: Life On The Road, Ken Loach's Palme d'Or winner I, Daniel Blake as well as Stan and Ollie, was also fulsome in his praise of Langan.
"We've always found her very easy to work with. She has got good taste…she is excellent in the room with talent - she is always very eloquent but not overbearing in any way. Presumably, she has got a good opportunity with Baby Cow and obviously she has worked with Steve Coogan before."
"On the one hand, it is sad but it sounds like it is a great opportunity for her," said Andrew Orr, managing-director of Independent, whose projects with BBC Films have included Lynne Ramsay's We Need To Talk About Kevin, Carol Morley's The Falling and comedy What We Did On Our Holiday.
"It is exciting for her and I think she is a great executive. She had a great ability to work on very authored, art house cinema but also on more commercial cinema," he continued, pointing out that Langan was "a great champion" of British independent film in all its forms.
Mike Goodridge, CEO of Protagonist Pictures, made a similar point.
"I am only surprised because she (Langan) has been such a steady hand. Of course, she is going on to new adventures but she is such a talented executive. She has been so successful in really defining the BBC Films brand," Goodridge said.
"You really know what BBC Films stand for. We've done a variety of films with them, from A Testament Of Youth, which is more a classic literary period piece to London Road which is a wildly ambitious adaptation of a stage production to The Ones Below, which is an unsettling British thriller."
Goodridge said that all these films "represent the best of British talent" and that Langan had the ability both to "go down the tested path" of literary cinema and to champion new discoveries.
Female-led narratives
Elizabeth Karlsen, co-founder of Number 9 Films (whose projects with BBC Films have included Great Expectations and Made In Dagenham) likened Langan's impact on the British film industry to that of Tessa Ross at Film4.
"Christine, much like Tessa, has left an extremely impressive library of films. It's a very strong legacy both creatively and financially. She has made a series of films that have had both creative and box office recognition and she has created a strong, hard-working team with good taste and diligence. That's Christine's leadership."
Karlsen called Langan "an extremely talented and intelligent executive who is also great fun to be with. She is super smart. She has got great taste and commercial acumen. She has always been very aware of what her remit is. She has been able to do a range of films. She has taken risks, nurtured new filmmakers and she has also done more mainstream comedic ventures and populist ventures."
The Number 9 executive also pointed to Langan's record on diversity - and on the representation of women in the British film industry.
"They (BBC Films) have definitely made huge strides toward rectifying the inequalities that you have, both in terms of numbers in front of and behind the camera and in the type of stories told," Karlsen said.
"Christine definitely championed that. An Education, Brooklyn, Philomena, The Duchess, Made In Dagenham, the new film that we've just done, Their Finest Hour And A Half starring Gemma Arterton - they are all female-led narratives."
Transition
Some industry observers are predicting a seamless transition following Langan's departure. "I don't think there will be a great shift in strategy. They've got a great team there already," said Orr.
However, Livingstone said that the "difficulty" now would be to "find someone of her talent, knowledge and work ethic who wanted to take on a job like that for a long period of time - to stick around for six or seven years. You want that - and you don't want to have a situation where someone hops on board for a year and then moves on."
The Pride producer noted that running BBC Films is "a job that does genuinely service the industry…there are a lot of British films that are entirely dependent on a contribution from Film4 or the BBC or BFI."
Livingstone suggested that Langan's job at BBC Films will be "sought after…but there are different personalities in the film industry - there are ambitious bucks who are really are on a career trajectory and seeing something as a stepping stone to move on to the next position. That is probably not the appropriate person."
"It is also an odd position because they (BBC Films) are involved in a lot of projects and they don't have full ownership of their projects," Livingstone said.
"You need someone who is going to want to be an industry player as opposed to someone who is entirely self-serving and sees it as a career opportunity. It is that - a high profile, important position - but it is working for a public body. You need to find someone with an enormous amount of knowledge who will be respected by the industry and will be here for the long haul."
Producer Uzma Hasan of independent film production company Little House Productions said she hoped that Langan's successor would be "someone from the outside who can be disruptive".
"It is a real opportunity to re-establish what the brand of the BBC is a little bit," said Hasan. "In the future, what I would love to see is the BBC being branded as clearly as Film4.
"I think Film4 has been a lot stronger on the international stage in terms of showcasing the best of British talent. It would be great if the BBC could also do that in a strong and convincing manner.
"I hope they bring someone in who will shake things up a little. I think it is always a good thing when large corporations are forced to reassess themselves and what they stand for."
Challenges
Mackinnon also drew attention to challenges facing BBC Films and other film companies.
"BBC Films is central to UK film production. Without it, I don't know where we would stand. Christine has stood on the shoulders of Mark Shivas and David Thompson who created a genuinely talented team, both creatively and in business affairs. There is no doubt that she has built on this strong foundation and made some really great films.
"I think what has been her challenge, which was not a challenge for David or Mark, is that the climate for film production has become even tougher than it was when she started five or six years ago. What she had to face is a brain drain of talent…many, many people, from the well established producers to the new producers coming into the market, have in the last few years turned away from film to explore new opportunities in long form television drama.
"The challenge now for someone who takes over from Christine is to acknowledge that change and be more focused on working with producing talent in the UK to consolidate and build sustainable businesses."