EXCLUSIVE: Industry figures in Colombia have moved to reassure international partners that the shock referendum vote rejecting peace talks with Farc guerrillas will not affect the country's growing reputation as a safe production base.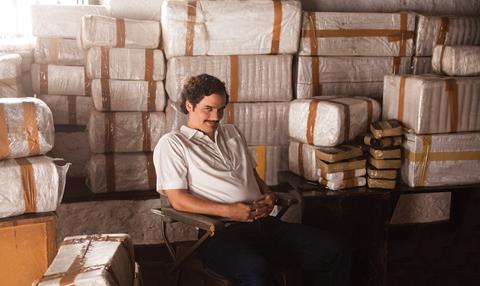 Their comments follow Sunday's plebiscite in which approximately 38% of the electorate confounded expectations and voted 50.2% to 49.8% in favour of a "no" result.
"I don't think it's going to have any impact," said Andres Calderon, the CEO at the country's largest producer-financier that has four projects in production or about to start filming. "In the last four years our industry has worked and will probably work better.

"We don't know how strong the dollar will be against the peso, but in terms of security, it's not going to affect anything. We've shot everywhere in the last four years.
"I know the perception of people outside is [an issue], but the mindset has to be that there's been a disagreement [in the peace process]."
Dynamo is production services partner on an unidentified Hollywood studio feature that has begun filming. It has imminent production starts on a TV show with a US partner, as well as the third season of Narcos (pictured), and Javier Bardem-Penelope Cruz starrer Escobar, which Nu Image sells internationally.
Diego Ramirez of producer 64-A Films said: "I am very sad regarding the results of the plebiscite. I really believed that the "yes" was going to win, but it's a democratic process and what it means is that the conversation is going to take longer. We all want peace and it's going to take more time but I am sure we will achieve it."
Ramirez continued: "I don't think people will stay away. Colombia is a very safe country for film projects before and during the peace talks. Now that the Farc have demonstrated that they believe in a future in politics I really believe that the peace process will move forward – in a different way from what we all thought, but forward."
64-A is ramping up as production services partner on Fresh, a drama that Peter Webber is scheduled to begin filming in November for Paris-based Full House and Colombia's 4direccioneswith support from Colombia's Law 1556 cash rebate.
Bogota-based head of Cineplex Colombia Elba McAllister agreed with Calderon and Ramirez. "The referendum issue will not affect the producers coming to shoot here.

"The security will stay because Farc have gained a lot of popularity locally and from the outside. They are ready to talk with the "no" leaders. For them it's better to keep the local and international support than go back to the jungle.

"The problem for productions is the lack of budget to keep the production fund alive. The government has spent too much trying to get the "yes" [result]. The production fund comes from national budget."
National film support body Proimagenes Colombia could not be reached for comment.
Polls leading up to the peace referendum had predicted a strong 66% in favour of the "yes" vote. President Juan Manuel Santos, the unpopular leader who led the "yes" campaign, claimed a "no" result would see a return to war in the decades-long struggle with Farc.
Álvaro Uribe, the former president and figurehead of the "no" lobby, said the outcome would lead to a better deal for all sides. Farc leader Timochenko has said he remains committed to a peaceful settlement.