Screen spoke to the first-time feature producer of well-received Edinburgh title Moon Dogs, backed by Welsh, Irish and Scottish film bodies.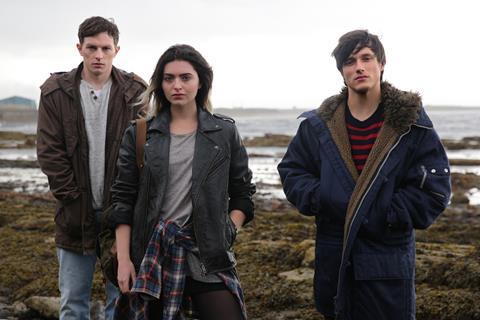 Moon Dogs is a gem that unearthed at the Edinburgh Film Festival, a Scottish Y Tu Mamá También that sees two half-brothers (Jack Parry Jones and newcomer Christy O'Donnell) journey from the Shetlands to Glasgow pursuing romantic and musical dreams.
First time feature film producer Kathy Speirs, who set up her company Un Helly Aa / Clydebank Films in 2012, tells how she managed to persuade the Welsh, Scottish and Irish film boards to finance a film [budgeted between £500k-£1m] from a first time director (Philip John) and producer, featuring no star names.
What were the origins of the film?
The film came about because of my friendship with screenwriters Raymond Friel and Derek Boyle, who I have known for a number of years and they have written two feature films, The Calcium Kid (2004) with Orlando Bloom and Botched (2007), starring Stephen Dorff.
We had worked on short films together and on theatre productions at the Edinburgh Fringe. We got onto this scheme called Accelerator, which is run by Scottish Playwrights' Studio in Glasgow, and that is where Moon Dogs started its journey.
Where did the story idea come from?
Raymond has spent some time in the Shetlands as a boy and so he had taken part in fire festival Up Helly Aa and we thought how can we make something that would definitely film in Scotland. Both The Calcium Kid and Botched were set in Scotland originally. We also wanted to have a big musical element.
What was the financing process?
I got development funding from Ffilm Cymru Wales, because I'm Welsh and they support filmmaking by Welsh talent wherever they are based, and wherever the story is set.
Following that we also got co-development financing from Creative Scotland. We wrote a few drafts. We then went to Up Helly Aa festival on the Shetland Islands and made a teaser, it was my way of getting high budget values with a low budget film by filming it before we actually knew that we were going to get money for a feature.
We were also backed by an equity financier for a while, but that fell through, as other money hadn't come in yet. Then we were looking for Irish collaborators because we felt the film had a good Celtic tone and we approached a production company in Ireland called Ripple World Pictures, Dominic Wright and Jacqueline Kerrin. They came on board as Irish co-producers and we got Irish money, so it's an official UK / Irish co-production.
What was most difficult part?
That was when the Irish Film Board deferred. Then I had to do a lot of crying. We got the money the next time, so all that crying in Cannes worked. It was a long process and we didn't close financing until the second week of the shoot. I was paying for things with my credit card and my husband didn't know.
You cast fresh unknown faces. Was that a risk?
It wasn't originally like that. Casting was a nightmare. We needed to get an Irish actress just as we needed to have certain nationalities represented in the crew. There are four main actresses of that age in Ireland who get all the parts, so we knew we had to go with someone who is not known.
Tara Lee had been in The Fall with Jamie Dornan. I had wanted Jack Lowden and Brian Vernel but the delays in filming meant that we lost them. Phil also had to take a directing job while we waited as he's got three kids and a mortgage. So two weeks from filming you are trying to keep from your financiers that you've lost your main cast.
But you then found two discoveries?
Jack Parry Jones is Welsh and had been in The Gospel Of Us with Michael Sheen. We had this great casting director, Simone Pereira Hind, who kept sending us tapes. Christy O'Donnell is a musician and had almost got the lead in an upcoming folk film, so Creative Scotland knew him, and he was the last person we saw.
What's next for Moon Dogs?
We are now looking for international sales and distribution. So my next step after Edinburgh is to go down to London to attend The Breakthrough Screenings, which we are part of this week.
What's your next project?
I'm currently developing Joe And Katie Are In A Relationship, directed by Adam and Joe Horton, which is being developed by BFI Network.