EXCLUSIVE: Palme d'Or winner denies reports that he was rejected from the Cannes Film Festival on political grounds.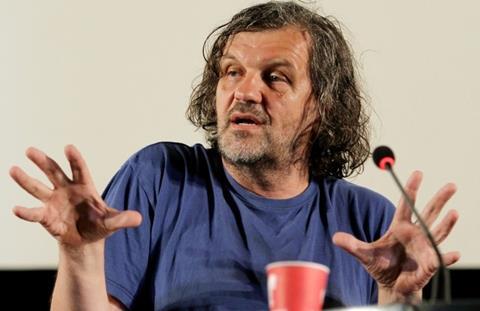 Two-time Palme d'Or winner and Cannes regular Emir Kusturica has repudiated comments attributed to him that his new film, On The Milky Road, was rejected from Cannes because of his support of Russian President Vladimir Putin.
Kusturica, speaking exclusively to ScreenDaily, said of the quotes attributed to news agency Russian News Service: "I'm just really confused. I don't know what is going on. I have absolutely not spoken to anybody."
One US trade, quoting the Russian News Service, stated that Kusturica submitted the film to Cannes the day after the deadline and that no one watched the film.
The Serbian director has hit back saying that such claims are preposterous, especially as Thierry Fremaux had watched the film as a work-in-progress and had kept tabs on the project throughout its three year production.
The director is in an exclusive club of two-time Palme d'Or winners, having won for When Father Was Away On Business in 1985 and Underground in 1995. He says he is not even aware of a deadline for submissions. Fremaux has often added titles to the festival competition after the official announcement.
"The Cannes Film Festival wanted the movie", insisted Kusturica, "but we have not finished."
According to Kusturica, the film crew attempted to get the film ready in time for Cannes, employing 15 different companies to work on the special effects.
They screened a cut of the film in Paris before the Cannes announcement, with lead actress Monica Bellucci in attendance. It was when watching this cut that Kusturica decided that it would be impossible to have the film ready in time for Cannes.
"We have many things to do," said the filmmaker. "We have to finish special effects and we also have some editing to do. We have to shorten the film a bit."
Kusturica does not hide his approval of President Putin, who he sees as a friend of Serbia. Yet he insists that this has never interfered with his filmmaking and it would not be the basis for Cannes to reject his film.
"This is speculation… it's not the reality," added Kusturica. "This is absolutely impossible because it's a film that is not finished."
Wild Bunch is handling international sales on On the Milky Road. The film is likely to launch at a festival in the autumn, with the most likely destination being the Venice Film Festival, where his short film Our Life unspooled in 2014 as part of the Words With Gods anthology.
On The Milky Road unfolds as a three-part narrative recounting three periods on the life of a man, played by Kusturica himself. Bellucci appears as his love interest.