In shock move, Film4 head departs UK broadcaster after 18 months to join STX Entertainment.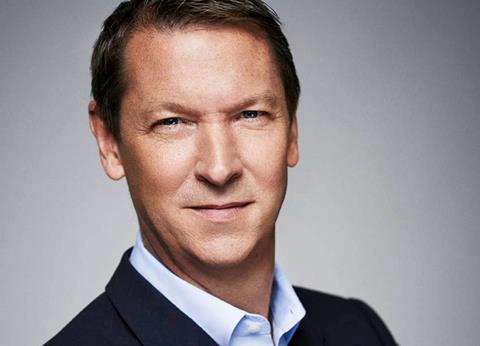 Film4 head David Kosse is to step down from his position after 18 months in the role to join fast-expanding US outfit STX Entertainment.
The shock news comes weeks after Film4 scored its most successful Oscar haul to date and the company announced an increased budget for 2016 and multiple high-profile deals.
The widely respected production and distribution executive took up the position at Film4 in November 2014 after a decade at studio Universal, most recently as president of international.
The timing of Kosse's departure will come as a surprise to many in the UK industry after the executive had embarked on a concerted drive to sharpen Film4's commercial instincts.
Kosse will join STX as president from June 1 - and consult for STX before then - to spearhead a new international development, production and distribution division STX International. He will report to STX Chief Operating Officer, Thomas McGrath.
Initial plans at STX are to launch direct distribution in the UK and Ireland in 2017, with expansion into additional key territories to be announced in due course. John Friedberg, president of international sales will report to Kosse from STX's Burbank headquarters.
STX International and Kosse will be based in the company's new London office, which will serve as the company's headquarters for international production, marketing and distribution.
Kosse said: "The way STX is approaching the international piece is refreshing and unlike anything else I've seen in the industry. I'm very excited about getting in on the ground floor and helping drive growth at what really is the first global media company that was truly built for the current entertainment landscape. I've had the pleasure of working with STX's leadership team previously and look forward to joining them as they innovate and change the industry."
The international group has already put in place 50 output agreements covering the global market. Kosse through the new STX International division will manage these partnerships and agreements while diversifying STX's distribution opportunities by adding the capability for STX to self-distribute its own films in selected territories.
The news comes only weeks after Screen interviewed the Film4 team about its future strategy, and coincides with recent speculation about the privatisation of Channel 4.
Titles picked up by STX include Hardcore Henry, which is released in the US and UK next week, the Matthew McConaughey-starring civil war drama Free State Of Jones, and the Gary Oldman, Carla Gugino Keri Russell-starring Sci-Fi The Space Between Us.