Relativity Media is buying Trigger Street Productions and Ryan Kavanaugh has brought in the production company's heads to run his film studio.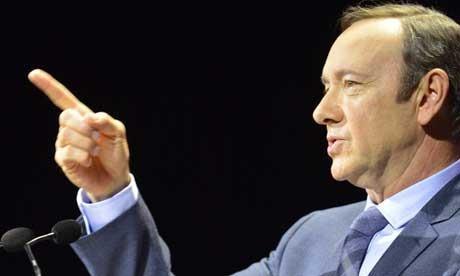 Under the deal Kevin Spacey will serve as chairman of Relativity Studios while Dana Brunetti, who has produced among others Fifty Shades of Grey, Captain Phillips, The Social Network and served as executive producer on Spacey starrer House Of Cards, will become president.
The appointments are effective mid-February. The pair will oversee all creative content and film production for the company. Financial terms of the transaction were not disclosed.
Relativity CEO Kavanaugh, who is in the process of taking his company out of Chapter 11 bankruptcy, said: "Both men share my passion for film and Relativity's unique 360 degree content engine, and I could not be more excited to partner with such talented professionals."

"They thought we were crazy when we chose to do House Of Cards with an online streaming service; they thought I was crazy when I went to run The Old Vic Theatre when no one thought it could be saved; and this move with Relativity will be proof for some that we really are crazy," said Spacey.

"This is an incredible opportunity to make great entertainment. I'm thrilled at this next evolution in my career, having run an independent production company to now be able to run a studio is a great challenge, and I've learned that in the end it's the risk takers that are rewarded."
"Being a disruptor at heart, I look forward to the opportunities that being inside a studio system will present," said Brunetti.

Relativity Studio's 2016 release slate includes The Disappointments Room, Before I Wake, Kidnap, Masterminds and Strangers 2.