Speaking at a BFI event in London, the director said film viewing on tablet or TV was "not the best way".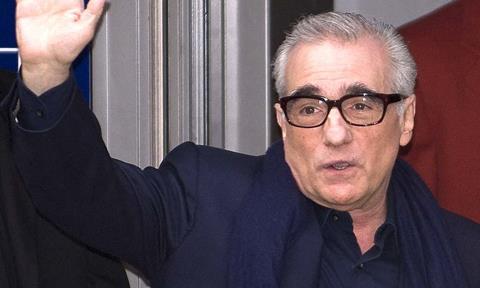 In a wide ranging interview at BFI Southbank last night, Martin Scorsese touched on everything from the origins of the "you talking to me" monologue from Taxi Driver to his dislike of watching films on tablets and TV.
"The problem now is that it is everything around the frame that is distracting," the iconic filmmaker told a rapt audience about watching movies at home.
"Now you can see a film on an iPad. You might be able to push it closer to your [face] in your bedroom, just lock the door and look at it if you can but I do find just glimpsing stuff here or there, even watching a film at home on a big-screen TV, there is still stuff around the room. There's a phone that rings. People go by. It is not the best way."
That cinephile Scorsese has misgivings over the small-screen experience is unsurprising, but the timing is intriguing given that his next film The Irishman is likely to have a curtailed theatrical release following yesterday's reported full-finance deal with Netflix.
During the BFI talk, Scorsese wasn't pressed as to whether the digital giant will guarantee the film a substantial theatrical release.
The Irishman, set to star Robert De Niro and Al Pacino, is based on the story of Frank Sheeran, the hitman alleged to have murdered teamster boss Jimmy Hoffa.
The original title of the long-gestating project, based on the book by Charles Brandt, was I Heard You Paint Houses.
"That was a conversation that Jimmy Hoffa has with Frank, the character De Niro plays," Scorsese explained. "They're put on the phone. Hoffa says to Frank, 'So and so says you're a good guy and I heard you paint houses.' And Frank Sheeran says, 'Yeah, and I do clean up.'"
The expression "to paint a house" is mob parlance for "to kill someone".
Al Pacino & De Niro
Scorsese expressed relish at the prospect of working with both De Niro and Pacino. Surprisingly, the filmmaker has never worked with the latter (Scorsese and De Niro have made eight films together, and De Niro and Pacino have worked together three times).
"Al and I have been trying to do a picture since 1971," Scorsese said. He was first introduced to Pacino by Francis Ford Coppola and has vivid recollections of seeing Pacino before his film career took flight in an off-Broadway show called Rats.
Scorsese was in London as part of the British Film Institute's major retrospective of his work. The on-stage Q&A was followed by a screening of the director's classic 1976 thriller Taxi Driver.
Speaking about that film, Scorsese told the audience that De Niro improvised the celebrated scene in which his character Travis Bickle confronts himself in the mirror.
"It was the last week of shooting," he revealed. "In the script, the dialogue is not there. I asked Paul [Schrader, the writer] and said, 'I think he (Bickle) needs to speak to himself in the mirror.'"
At the time, Scorsese was under intense pressure to complete the movie. He was five days late on a 40-day shoot and the studio Columbia Pictures was "furious".
"I got on the floor in front of [De Niro] and then he started playing with the gun and then started saying, 'Are you talking to me?' and just kept repeating it. He developed that moment. As I say, it was done under a lot of [pressure]. The assistant director, who was a good guy, was banging on the door, saying we've got to go."
Frank Sinatra biopic
During the session Scorsese also expressed regret that he has not been able to make his long-planned Frank Sinatra biopic.
"I spent a lot of time on it," Scorsese said. "I grew up with Sinatra in the '50s and '60s. I remember when he was, in the early '50s, considered finished, over. I remember how cruelly he was treated by the press and Hollywood."
Scorsese has vivid recollections of when Sinatra won his Oscar for From Here To Eternity and began his comeback.
"He was tough," Scorsese remembered. "He still had that edge. I understood why."
Silence 'insanity'
Scorsese himself has shown similar resilience throughout his career, not least in his long journey to get his most recent film, Silence, financed and completed.
The director remembered being told by his manager and agent not to make the film. "'This is insane'", they warned him. "'This project has gone on for years, there are so many legal problems, one of the financiers is in jail'".
Nonetheless, he persevered and many years after first coming across Shūsaku Endō's novel, he was finally able to complete the movie, which Scorsese described as "an obsessive endeavour for many years".
The final part of the jigsaw involved him going to Cannes to meet distributors on behalf of the film's sales agent, IM Global.
"I stayed in a room for two days and nights and people came in and I talked," Scorsese joked about the process by which he was finally able to secure the money.
The Scorsese Q&A was recorded by BBC Arts and a version will be broadcast on BBC2 on Saturday 4th March at 10pm.