EXCLUSIVE: Les Films du Losange secures key deals; Matthieu Kassovitz joins cast also featuring Jean-Louis Trintignant and Isabelle Huppert.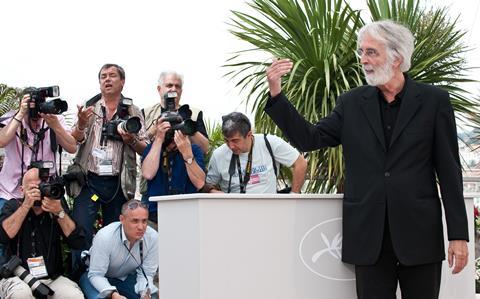 Paris-based Les Films du Losange has unveiled pre-sales on Michael Haneke's next film Happy End as the first day of shooting begins in the northern French region of the Nord-Pas-de-Calais today.
Few details on the production have been revealed publicly bar that the film will revolve around a well-off French family living in a bourgeois bubble in northern France, oblivious to the human misery unfolding in migrant camps around the port town of Calais, a few miles from their home.
As previously reported by one French media outlet, Matthieu Kassovitz has recently joined the cast which also features the previously announced Jean-Louis Trintignant and Isabelle Huppert as well as a host of younger new faces.
A number of distributors who released Haneke's 2013 Palme d'Or and Oscar-winning Amour – which made $34m at global box office — have signed up for Austrian director's latest work.
In Europe, it has sold to the UK (Curzon/Artificial Eye), Austria (Filmladen), (Benelux (Cinéart), Denmark (Camera Film), Germany (X Verleih),Greece (Rosebud), Norway (Arthaus), Poland (Gutek), Portugal (Leopardo Filmes), Spain (Golem), Switzerland (Filmcoopi), ex-Yugoslavia (MCF Megacom), Sweden (Folkets Bio) and Romania (Independenta).
There are new European distributors in Italy (Cinema SRL) and the Czech Republic and Slovakia (Aerofilms).
Les Films du Losange, which is producing the film with its usual partners X Filme and Wega Film, will distribute in France.
In the rest of the world, it has been picked up for Australia and New Zealand (Transmission), Israel (Lev Cinemas), South Korea (Green Narae), Turkey (Bir) and Taiwan (Andrews).
Japan's Longride also signed up for the feature this week when Les Films du Losange sales chief Berenice Vincent was in Tokyo on a Unifrance promotional trip.