EXCLUSIVE: Sky will broadcast all access doc in mid-June.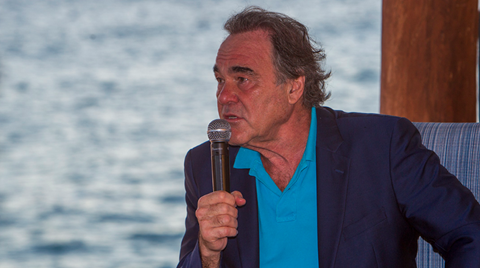 Sky Atlantic and Now TV have nabbed UK rights to Oliver Stone's upcoming documentary on Vladimir Putin.
Over the past two years Stone (Platoon) has been granted unprecedented access to the professional and personal worlds of the Russian president.
The interviews, produced for Showtime, will be broadcast on Sky Atlantic and NOW TV as a four-part special between Tuesday 13 - Friday 16 June, at 2am GMT.
Showtime will air in the US on Monday, June 12, at 9 pm eastern time.
For the series, Stone, with the help of his longtime documentary producer Fernando Sulichin, interviewed the Russian leader more than a dozen times, most recently in February following the US presidential elections.
Since first becoming Russian president in 2000, Putin has rarely spoken at length or in detail to a western interviewer.
During the wide-ranging discussions, the leader confronts the increasingly fragile relations between the US and Russia today, including his views on president Donald Trump and allegations of Russian meddling in the 2016 US presidential election, NATO, and turmoil in Syria, Ukraine and elsewhere.
Prodded by Stone, Putin discusses his rise to the presidency, his personal relationships with Clinton, Bush, Obama and Trump - as well as Yeltsin and Gorbachev.
He also talks of the legacies of Stalin and Reagan, as well as the surveillance state and Edward Snowden's flight to asylum in Moscow, and the resignation of US Representative Debbie Wasserman Schultz.
The sessions were held throughout the Kremlin, Sochi and Putin's official residence outside of Moscow and include a sequence where Stone introduces Putin for the first time to Stanley Kubrick's Cold War satire Dr. Strangelove which they watched together.
Zai Bennett, director of programmes, Sky Entertainment UK & Ireland, said: "Barrier breaking, brave and thought-provoking documentaries are a key pillar of our Sky Atlantic offering. The Putin Interviews offers a no holds barred look at one of the most divisive political figures of our time, and we're excited to be bringing it to a UK audience."
IM Global Television were handling international sales during Cannes.