EXCLUSIVE: TV projects also on slate for Australian outfit.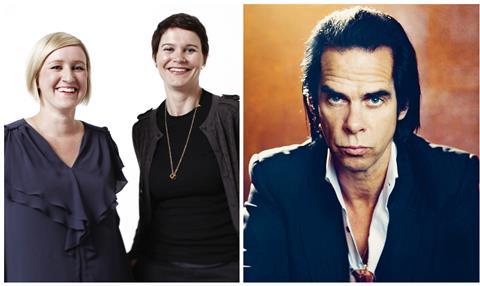 Snowtown and Partisan producers Anna McLeish and Sarah Shaw are moving on from Warp Films Australia to launch production outfit Carver Films with a slate that includes Nick Cave adaptation The Death of Bunny Munro.
McLeish co-founded Warp Films Australia six years ago with '71 and This Is England producers Warp UK, which will discontinue the Warp Films Australia banner but where possible will look to continue to produce with the territory.
McLeish and Shaw produced Kurzel's acclaimed debut Snowtown, Ariel Kleiman's Vincent Cassel starrer Partisan, which premiered at Sundance this year, and New Zealand drama Shopping, which played in Sundance and Berlin.
Under their new banner the Melbourne-based duo are set to produce Jed Kurzel's feature debut Ivan Lendl Never Learnt to Volley, starring Denis Menochet, and the narrative feature adaptation of Nick Cave's cult Brighton-set 1989 novel The Death of Bunny Munro, which will be directed by 20,000 Days On Earth duo Jane Pollard and Iain Forsyth.
Adapted by Cave (Lawless), The Death of Bunny Munro will be a UK-Australian co-production with UK producer James Wilson (Under the Skin, 20,000 Days on Earth).
Casting and financing is currently underway on the project, which charts the story of a lothario salesman who, struggling to keep a grip on reality after the death of his wife, hits the road with his young son.
The production will hold particular poignancy for musician, screenwriter and novelist Cave whose 15 year-old son tragically died after falling off a cliff in Brighton in July.
Carver is also set to cut its teeth in TV, entering into a development and co-production deal with Australian production outfit Matchbox Pictures - producers of Australian mini-series Deadline Galllipoli and Devil's Playground - on an as-yet undisclosed series to be produced by McLeish, Shaw and Matchbox's Penny Chapman.
"It's been an exhilarating journey with Warp," McLeish told Screen. "Sarah and I remain drawn to creating content with the same kind of exceptional talent we've worked with to date, in Australia and abroad. We look forward to unveiling more of that with Carver."
"What Anna and Sarah have achieved in a short time is fantastic and we fully support their decision to set up their own production company," said Warp UK's Mark Herbert.
"We've enjoyed working with them and Warp will still continue to make productions in Australia and with Australian talent."