EXCLUSIVE: 47 Meters Down collaborators are merging to launch London-based The Fyzz Facility Pictures.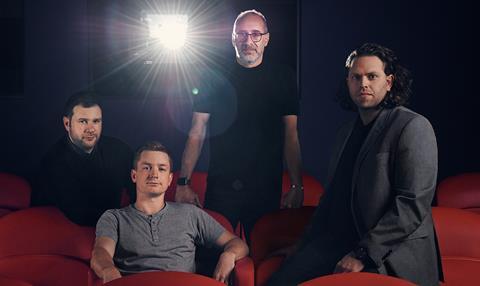 UK financier-producer The Fyzz Facility has closed a deal with The Tea Shop & Film Company producers Mark Lane and James Harris to launch The Fyzz Facility Pictures.
Tea Shop owners Lane and Harris have been appointed directors of The Fyzz Facility Pictures alongside The Fyzz Facility co-founders Wayne Marc Godfrey and Robert Jones.
The two companies have worked together on three films in the last 18 months including upcoming thriller 47 Meters Down, which is due for release later this year through TWC in North America and eOne in the UK.
The new outfit will focus on developing existing and new IP and has a plan to produce three to five features and TV productions each year.
The Usual Suspects producer Jones launched The Fyzz Facility with producer Godfrey five years ago since when the outfit has helped finance a host of large-scale titles including Martin Scorsese's Silence and Robert De Niro title Heist.
The ambitious outfit has also produced features including BAFTA-nominated The Survivalist and thriller A Patch Of Fog.
The Tea Shop & Film Company is known for producing UK features including Tower Block and Cockneys vs Zombies. It is currently in post-production on four films including Maggie Q horror Slumber and Orlando Bloom drama Romans.
Phillip Wealand will also join the new venture working in The Fyzz Facility development team which is headed by Emma Lamont.
"The Fyzz Facility's financing side has co-funded more than 100 films in the past five years," said Godfrey. "Welcoming Mark and James to work alongside us is an exciting idea and accelerates our strategy to develop The Fyzz Facility's in-house film and television content creation,"
"James and Mark are wonderfully creative and prolific and like us have a keen eye on the market. Hooking up with them will create a leading production business producing a diverse portfolio of productions with world-class creative talent."
Jones added: "We share a creative vision for our in-house production to continue finding critical successes like The Survivalist and commercial prospects like the STX-backed The Foreigner."
Lane added: "James and I are delighted to join up with the fantastic team at The Fyzz. What Robert and Wayne have achieved in five years on a global scale is incredible. The opportunity and enhanced capability to now work together and produce more fresh and bold productions and be a magnet for talent to realise their creative ambitions is very exciting."
"Working together enables us to keep a foothold in the UK independent scene whilst we push forward into the market for larger scale genre films funded from the UK and beyond," commented Harris.