Venice Production Bridge will incorporate Gap Financing Market and Final Cut events.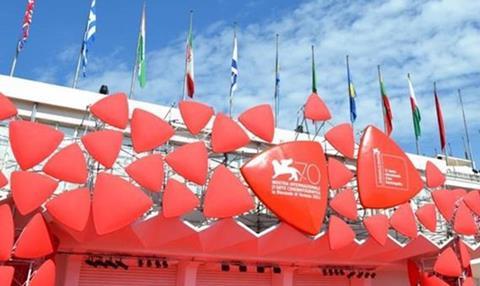 The Venice Film Festival (Aug 31 - Sept 10) has revealed the line-ups for its 2016 market events, newly renamed the Venice Production Bridge (Sept 1 - 5).
The Production Bridge will host features, TV, web-series and VR projects.
Venice's two-day Gap-Financing Market event (September 2-3, 2016) will host 40 selected European and International projects looking to close their international financing.
The market's Final Cut strand will award prizes to selected in-the-works projects from Africa and from Iraq, Jordan, Lebanon, Palestine and Syria, while the inaugural Book Adaptation Rights Area will see publishers pitch books ripe for film or TV adaptation.
The European Commission organises two workshops, one on access to finance (Sept 3) and the other on the future of cinemas (Sept 4). The second event, which will be opened by European Commissioner Oettinger, will focus on how cinemas can fully reap the benefits of digital technologies.
Gap Financing Market line-up
FICTION
Europe
1 - "Alien Food" by Giorgio Cugno (Italy, Denmark, France)
2 - "Birth" by Jessica Krummacher (Germany, Turkey)
3 - "Funan, the new people" by Denis Do (France, Luxembourg, Belgium)
4 - "God Exists, Her Name is Petrunija" by Teona Sturgar Mitevska (Macedonia)
5 - "Luxembourg" by Myroslav Slaboshpytskiy (Germany, Ukraine, France, Norway)
6- "The Intruder" by Leonardo Di Costanzo (Italy, Switzerland, France)
7 - "The Nature of Time" by Karim Moussaoui (France)
8 - "The Song of Scorpions" by Anup Singh (Switzerland)
9 - "Touch Me Not" by Adina Pintilie (Romania, France, Bulgaria)
Outside of Europe:
10 - "A Worthy Companion" by Carlos & Jason Sanchez (Canada)
11 - "Brief Story from the Green Planet" by Santiago Loza (Argentina, Germany)
12 - "Dolores" by Gonzalo Tobal (Argentina, France, Spain)
13 - "Let it be Morning" by Eran Kolirin (Israel, France)
14 - "Lily and the Dragonflies" by René Guerra (Brazil, Denmark)
15 - "Los Perros" by Marcela Said (Chile, Germany, Argentina)
16 - "Sollers Point" by Matt Porterfield (USA, France)
17 - "The Seen and Unseen" by Kamila Andini (Indonesia)
18 - "Wajib" by Annemarie Jacir (Palestine, France, Germany, Norway, Denmark)
DOCUMENTARIES
Europe
19 - "Apolonia, Apolonia" by Lea Glob (Denmark)
20 - "Cain, Abel and the Cowgirl" by Dina Salah Amer (UK, France, USA)
21 - "Gold Mine" by Ben Russell (France)
22 - ''Latifa'' by Olivier Peyon and Cyril Brody (France)
23 - "The Real Estate" by Axel Petersén and Måns Månsson (Sweden, Denmark)
24 - "Tierra del mal" by Daniele Incalcaterra and Fausta Quattrini (Italy, Argentina)
+
Outside of Europe:
25 - "Impeachment" by Petra Costa (Brazil)
15 VIRTUAL REALITY & INTERACTIVE, WEB SERIES AND TV SERIES PROJECTS
1 - ''Ashes to Ashes'' (Netherlands) VR
Submarine Channel
2 - ''Exode'' by Gabo Arora (USA) VR
Un/Verse, Lightshed
3 - ''Nomads'' (Canada) VR
Felix & Paul Studios
4 - ''Our baby'' by Simon Bouisson (France) VR
La Générale de production
5 - ''The Future of Forever: Welcome to the Other Side' by Annna Brezezinska (Poland) VR
Unlimited Film Operations
6 - ''Trinity'' by Patrick Boivin (Canada) VR
Unlimited Vr
7 - ''Oh Moscow'' by Sally Potter (UK) Interactive/Multimedia Experience
Adventure Pictures
8 - ''The Boy in the Book'' by Fernando De Jesus (UK) Interactive/Web series
CYOD Ltd., Thinking Violets
9 - ''Difficult Second Coming'' by Dylan Edwards and Natasha O'Keeffe (UK) Web series
Electric Sandbox
10 - ''Music on the road'' by Benoit Pergent (France) Web series
Les Films du Poisson
11 - ''Referees'' by Giampiero Judica (Italy) Web series
3Zero2 SpA
12 - ''Aurora'' (Italy) TV series
Publispei Srl
13 - ''Bullfinch'' (Germany) TV series
Zentropa Hamburg GmbH
14 - ''Nemesi'' (Italy) TV series
Indigo Film
15 - ''School Of Champions'' by Clemens Aufderklamm (Germany, Switzerland) TV series
Catpics Ltd
FINAL CUT IN VENICE
- 'Felicity' by Alain Gomis (France, Senegal, Belgium)
- 'Ghost Hunting' by Raed Andoni (Palestine, France, Switzerland)
- 'Obscure' by Soudade Kaadan (Syria, Lebanon)
- 'Poisonous Roses' by Ahmed Fawzi Saleh (Egypt, France, Qatar)
- 'One of these days' by Nadim Tabet (Lebanon)
- 'The Wound' by John Trengove (South Africa, Germany, Netherlands, France)
Book Adaptation Rights Area.
- Andrew Nurnberg Associates (United Kingdom)
- De Agostini (Italy)
- De Bezige Bij (Netherlands)
- Diogenes (Switzerland)
- Elisabeth Ruge Agentur (Germany)
- Flammarion (France)
- Gallimard (France)
- Glénat (France)
- Lannoo (Belgium)
- Les Éditions de l'Homme Sans Nom (France)
- Média-Participations (France)
- Oetinger Filmrechte-Agentur (Germany)
- Place des Editeurs (France)
- Planeta (Spain)
- Ullstein Buchverlage (Germany)