A simple Albanian goat-herd is the protagonist of this stunningly-shot feature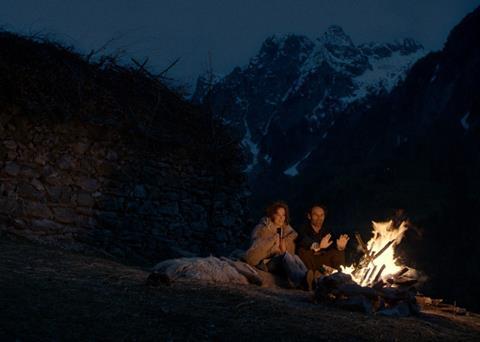 Dir. Robert Budina. Albania/Romania. 2018. 84 mins
The religious divisions between the members of one extended family in an Albanian mountain community mirror those of the country as a whole in this strikingly photographed parable. Besnick, a goat-herd, is a devout Muslim who is spiritually connected to the wild lands over which he wanders. But when his ailing father's health deteriorates, his brother and sister descend on the family home and Besnick finds himself in the heart of a simmering conflict. Meanwhile, the discovery that the ancient village mosque was originally a catholic church causes unrest within the wider community. Slow-burning but visually arresting, this film evocatively captures the collision between tradition and modernity; and the schisms between the uneasily coexisting cultures.
A potent, if pointed, commentary on people who "love God, but can't seem to love each other."
The drama between the family members may be low key, but there is nothing restrained about the stunning setting. The mountain backdrop and the lives that the villagers carve out of it are exquisitely photographed, and for this and more, the picture is likely to find an audience on the festival circuit after its premeire at the Black Nights Film Festival in Tallinn. In addition to the landscape, the film also ticks a lot of ethnographic arthouse boxes – goat-herding, a holy fool protagonist – and as such, it could create some gentle ripples.
Even within a people who live close to the land and are in tune with its rhythms, Besnick (Arben Bajraktaraj) has an otherworldly quality. He kneels to pray in the field, among his livestock, and then simply vanishes. The village boys who spy on him are fascinated by this taciturn loner, attributing to him supernatural powers that go beyond a connection with nature. And it is Besnick who, guided by an instinct he can't explain, chips at the plaster on the wall of the little mosque and reveals beneath it a fragment of an ancient Christian wall painting. The discovery is treated with suspicion by the locals but causes great excitement in the city. Vilma, an art historian from the Institute of Monuments, arrives to assess the find; Besnick is bewitched and unsettled by her.
Equally disturbing for this simple man who values the peace of the life which was chosen for him is the arrival of his siblings. "I have a feeling you aren't here just for me" growls his father to the elder son, who eyes the family home, sizing up his chances of scoring a chunk of the inheritance. The son and his family converted to the Greek Orthodox church when they lived abroad; Besnick's sister and her family are Muslims. And his father is an irascible old communist.
It doesn't take long for tensions to rise between them all. Fragile Besnick, who is plagued by seizures which are heralded by sawing, metallic music on the score, begins to show the strain mentally. Edged out of his own home by his warring family, he also feels responsible for the rising tide of animosity between the Muslim villagers and their Catholic neighbours which was triggered by the news of the Mosque's origins. It's a potent, if pointed, commentary on people who "love God, but can't seem to love each other."
Production company: Erafilm
International sales: Pluto Film acquisitions@plutofilm.de
Producer: Sabina Kodra
Screenplay: Robert Budina
Editing: Ștefan Tatu
Cinematography: Marius Panduru
Music: Marius Leftărache
Main cast: Arben Bajraktaraj, Esela Pysqyli, Irena Cahani, Bruno Shllaku, Osman Ahmeti