Filmmaker Davy Rothbart takes a two-decade journey with a struggling Washington D.C. family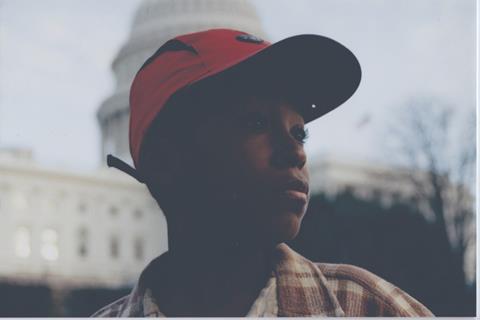 Dir: Davy Rothbart. US. 2019. 96mins.
Deep inside the sort of Washington D.C. neighborhood that tourists never visit, a small store does a steady business with locals. Its specialty is personalized T-shirts; its most popular request is for one honouring the recently deceased, their photos surrounded by messages of remembrance. The span between the printed birth and death dates is rarely very long.
The filmmaker refuses to judge, or get involved, and that insistence on pure, objective observation is both crucial and sure to inspire debate
The sight of mourners ordering one of these cotton tombstones is an eerie one, and you'd think intensely private. But nearly everything is public in the documentary 17 Blocks, premiering at Tribeca. After gaining one D.C. family's enormous trust, director Davy Rothbart spent 20 years following their tragedies and triumphs. The result, with its decades-long narrative and heartbreaking urban strife, is a kind of "Boyhood 'n' the Hood", and should do well among discerning arthouse audiences and serious doc devotees.
Rothbart begins by introducing us to impish, 9-year-old Emmanuel, who then takes us to meet the rest of his family. Mom Cheryl Sanford is a poor single parent raising three kids in a crowded apartment and she seems a little surprised to find herself in this situation; after all, she points out, her father had a government job and she always went to good schools. But things happened. Men came and left. Life started trending downwards. There were other reasons besides bad luck, though; most of them had to do with drugs, and Cheryl's use of them. And as they take an even fiercer hold in that apartment, everything else spins faster out of control.
17 Blocks – the title refers to the distance between the Sanford home and the White House – is packed with gritty realism, and at times its uncensored honesty almost makes you want to look away. There is Cheryl, passed out on a bed, half-exposed while her children wander in and out of the room; there are two teen boys coolly rating their carnal encounters with local girls. Sitting in your theater seat, you feel as if you're peeping through a window.
Still, the filmmaker refuses to judge, or get involved, and that insistence on pure, objective observation is both crucial and sure to inspire debate. In one scene, the camera rolls while a boy's unpaid debt to neighborhood thugs leads to a vicious beating, with the victim shouting vainly for help; in another, it coolly watches while someone doses cigarettes with PCP and smokes himself into insensibility. Nobody yells cut.
It's compelling viewing but at first it's hard to find the movie's real point, beyond a celebration of Rothbart's own access. Although the title suggests government indifference – imagine, the First Family lives only 17 blocks away – it's unclear how past policies, or new ones, might have helped or harmed the Sanfords. Nor, of course, is there anything like a "typical" inner-city family; when the film finally reveals what may have set Cheryl on her long, slow slide, the reasons are painfully personal and specific to her.
But then, after the film's modern-day tragedy, things begin to focus. We see how one person's death affects others – siblings, parents, lovers – in deep and ongoing ways. We marvel at the hidden powers of the powerless; how, when nearly broken, some people grow back stronger, pushing themselves to take care of those around them. And we're invited to celebrate the possibilities of change; a new job, a second chance, a better life.
As it begins to wrap up, the film starts to abandon its cinema-verite style. The shaky camerawork – some of it by young Emmanuel – gives way to long, carefully composed shots. The lighting is more careful. The music begins to swell. Characters find closure. It's as if, having taken us into the midst of the D.C. slums, the documentary refuses to end before safely escorting us back into the world of Hollywood films. But then the screen grows black, only to fill with the names of hundreds of people, all victims of gun violence in America's capital. And to warn us that this story isn't over yet.
Production companies: Beachside Films
US sales: Submarine ben@submarine.com / International sales: Beachside Films apoorva@beachsidefilms.com
Producers: Michael B. Clark, Rachel Dengiz, Davy Rothbart, Alex Turtletaub, MarcTurtletaub,
Screenplay: Jennifer Tiexiera
Editing: Jennifer Tiexiera
Cinematography: Zachary Shields
Music: Nick Urata