Pablo Agüero brings a #MeToo spin to this Spanish Inquisition drama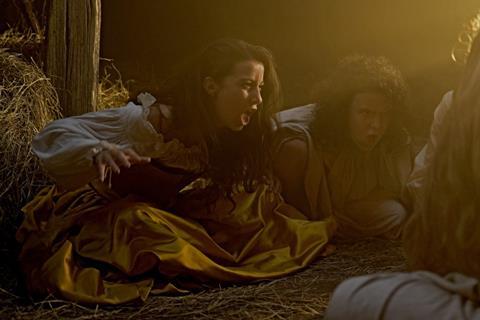 Dir. Pablo Agüero. Spain/France/Argentina. 2020. 90 mins.
Religious paranoia under the Spanish Inquisition is given a feminist spin in Akelarre, a Basque-set drama by Argentinian writer-director Pablo Agüero. This atmospheric but earnest historical drama should play well in San Sebastian's official selection, where audiences will be receptive to the film's theme of Basque language and culture being demonised – the mot juste in this context – by Spain's powers that be.
The film is executed with an odd combination of low-budget severity and unintentional kitsch.
Akelarre – the Basque word for 'witches' Sabbath' – is also very much of the moment, its story of persecuted women focusing on what might considered European history's primal #MeToo moment. Inventive use of economical resources plus strong acting, notably from a female ensemble headed by Amaia Aberastrui, are the ace cards of this Euro-Argentinian co-production. But given Agüero's past form – including Cannes-premiered Patagonian journey Salamandra (2008) and 2015 Gael García Bernal starrer Eva Doesn't Sleep – this somewhat rough-and-ready project has the feel of an earnest, high-quality film-school production. Festivals and other outlets will be only moderately bewitched.
The setting to the story, co-written by Katell Guillou, is the Basque Country in 1609, where a Spanish delegation of priests and soldiers, headed by Inquisition cleric Rostegui (Iberian stalwart Álex Brendemühl), is scouring the countryside in search of witches. A prelude showing blazing pyres bodes ill for the fates of the girls of one village, innocently making merry in the woods and singing maritime-themed love songs, while the community's men are off at sea. It's only a matter of time before Rostegui's party ride into their neck of the woods and – with a terrified young local priest (a nicely craven Asier Oruesagasti) pressed into service – continue their mission of determining what happens in witches' sabbaths, a question that obsesses Rostegui.
Rounded up on the coast's vertiginous cliffs, six girls are imprisoned in a cell and interrogated one by one by Rostegui and his sardonic scribe Salazar (imposingly granite-faced Daniel Fanego). With their own language proscribed as the tongue of the Devil (the film's dialogue is in Basque and Spanish), the girls optimistically try various tactics to stay alive, including telling the inquisitors what they want to hear – which means giving Rostegui a concert of orgasmic moans to satisfy his febrile fascination with female sexuality.
This ploy, however, leaves several of the girls brutalised with their hair shorn, and a plan to detain the inquisitors by spinning tales till the village men return from sea (you might call this the Scheherazade Stratagem) is clearly doomed from the start. But, even as the prisoners are bullied into signing confessions and accusing each other, the most resilient among them, Ana (Aberasturi), uses both wits and sexual wiles to entrance Rostegui, whose ultimate desire, like a sort of Inquisition tourist, is to witness an authentic akelarre with his own eyes.
The film is executed with an odd combination of low-budget severity – with much of the action shot in close-ups in the girls' cell and the inquisitorial chamber – and unintentional kitsch. The moment when the prisoner bursts into song to raise morale is executed in immaculate, concert-quality close harmonies, and the climactic Sabbath itself – both a mock-up to satisfy Rostegui and a spontaneous expression of unfettered defiance – is done as a tightly choreographed production number, complete with Garazi Urkola going full Linda Blair with an Exorcist­-style 'spider walk' contortions.
Brendemühl, recently seen in Christian Petzold's Transit and Jaime Rosales's Petra, gives a solid, austere performance as a fanatic who embodies the Inquisition's paranoid horror of female sexuality, and whose none-too-repressed desire makes him, through a neat scripting touch, suspiciously resemble the Lucifer he's so obsessed with tracking down. The prisoners – including the youngest, Urkola, as the impressionable Katalin – make a tight, spirited ensemble, and as Ana, Aberasturi robustly carries the weight of the very modern rebelliousness that defines this character.
Unfortunately, that also makes her rather too transparent as an audience-pleasing device, out of synch with what might otherwise be a realistic depiction of the era. The contemporary feminist perspective can be a little on the nose – notably when a village doyenne discourses on the repressive function of her headgear – and is somewhat undermined by a too-obviously-teasing nude scene for Aberasturi.
DoP Javier Agirre makes resourceful use of fire, candlelight and daylight filtered through dusty air – some shots nodding to the more infernal images of Goya - but the interior scenes can feel airless and contrived rather than truly evocative, while the forest and clifftop exteriors have a decorative romanticism that never quite integrates with the whole. Neo-folk musical content by Maite Arroitajauregi's Mursego ensemble is full-blooded, although its sometimes spectacular polish sits oddly with any claims the film may have to credibility as period realism.
Production companies: Lamia Producciones Audiovisuales, Kowalski Films, Sorgin Films, Gariza Produkzioak, Tita Productions, La Fidèle Production, Campo Cine
International sales: Film Factory Entertainment, sales@filmfactory.es
Producers: Iker Ganuza, Koldo Zuazua, Iker Ganuza, Garazi Elorza, Fréderic Premel, Jokin Etcheverria, Nicolás Avruj
Screenplay: Pablo Agüero, Katell Guillou
Cinematography: Javier Agirre
Editor: Teresa Font
Production design: Mikel Serrano
Music: Maite Arroitajauregi (Mursego), Aranzazu Calleja
Main cast: Álex Brendemühl, Amaia Aberasturi, Daniel Fanego, Garazi Urkola