The Mayor of Lyon needs help to come up with new ideas in this lively, funny film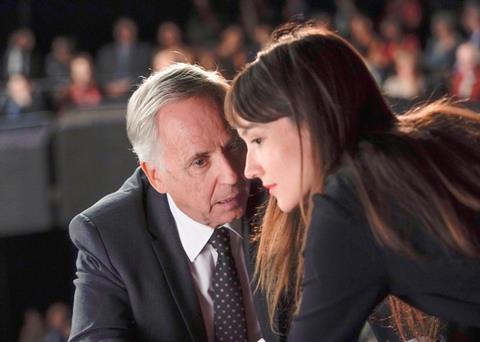 Dir-scr: Nicolas Pariser. France. 2018. 105mins.
The Mayor of Lyon, Paul Theraneau (Fabrice Luchini, marvellous) remains completely devoted to serving his city and his country but his knack for generating new ideas — he says he used to have 25 or more per day, requiring a Dictaphone just to keep up with his own creativity — has evaporated. Enter low-key 30 year-old academic Alice Heimann (Anais Demoustier, spot on) who is hired for a nebulous job conjuring ideas at City Hall. Their interactions are our gateway into a lively, funny and touching exploration of the way we live now through the filter of two generations. Talky in the best possible way, this is a classy but accessible piece of entertainment which is also food for thought.
Rewarding as a filmgoing experience and as a defence of smart people in civic roles who are still capable of distanced irony
When Alice shows up for her first day of work, she learns from Melinda (stand up comic Nora Hamzawi, who is on her way to being the French Eve Arden of the 21st century) that the job she came for has already been eliminated but not to worry because they had to invent another job to take its place. Alice, who dresses casually in a sea of energetic young men in suits alongside the Mayor's sleekly magnificent chief of staff Isabelle (Leonie Simaga), is thrown into the formal yet incredibly chaotic whirl of upper echelon politics. ("Can you read this book in the next hour, because the Mayor wants to see you in 30 minutes.")
Bemused but accommodating, Alice endeavours to navigate a harried environment that passes for normal — everybody's working all the time but are they getting anything done beyond rewording hollow jargon and feeding relentless forward motion? —and we're right there with her. The result is rewarding as a filmgoing experience and as a defence of smart people in civic roles who are still capable of distanced irony.
The Mayor believes that French-style Socialism can improve lives. Alice — who left a teaching position at Oxford to return to her native Lyon — still doesn't really know what she wants to do when she grows up. She's not particularly eager or ambitious and that sets her apart. Theraneau is suffering from the career politician's version of writers block and Alice is a straight-shooting realist astounded that a pompous and pointless municipal project backed by a wealthy power broker is being taken seriously. A series of mostly shoe-horned-in conversations between the Mayor and Alice will have a profound effect on both of them.
Pariser (2015's award winning The Great Game) deftly illustrates that men of action rarely take the time to think and deep thinkers rarely leap into action. The danger for modern democracy, he implies, is right up there with global warming. Pariser — who worked with the late Pierre Rissient, to whom the film is dedicated —is among those who militantly believe filmmakers should shoot on film. His technical convictions are rewarded with a captivating level of realism in faces and a special texture to the impressive vistas of Lyon. The sparingly used musical score is top notch.
Production companies: Bizibi, Arte France Cinema
International sales: Bac Films, contact@bacfilms.fr
Producer: Emmanuel Agneray
Production design: Wouter Zoon
Editor: Christel Dewynter
Cinematography: Sebastien Buchmann
Music: Benjamin Esdraffo
Main cast: Fabrice Luchini, Anais Demoustier, Leonie Simaga, Nora Hamzawi, Alexandre Steiger, Maud Wyler, Thomas Chabroac