A divorced man negotiates Croatian social services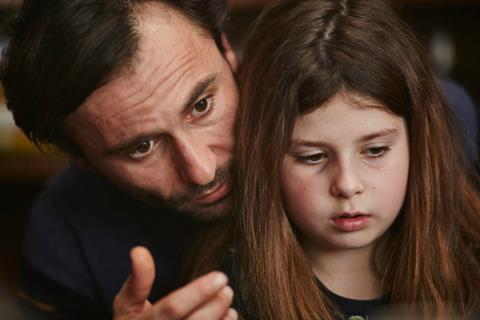 Dir/scr: Bobo Jelčić. Croatia-Netherlands-Serbia-Montenegro-Bosnia and Herzegovina . 2018. 87mins
A divorced father is forced to negotiate the Kafkaesque bureaucracy of Croatian social services in order to plead for more time with his daughter, in this superb second feature from Bobo Jelčić. A theatre director-turned-filmmaker whose debut, A Stranger, premiered in Berlin, Jelčić combines a finely tuned ear for dialogue with a sure directorial hand which can flip the film between dark comedy and pathos and back again; sometimes even within the same scene.
There's a restless, shifty quality to the camerawork.
All Alone should have no shortage of offers of other festival slots following its Sarajevo premiere. The picture will be of most interest to distributors in markets which have a proven appetite for the wry naturalism of current Romanian cinema. Although distinctively Balkan in flavour – smoking features heavily – there are multiple parallels with films which weave a narrative out of red tape, corruption and the indifference of the state, notably Cristian Mungiu's Graduation and Cristi Puiu's The Death Of Mr Lazarescu.
The title of this elegantly crafted domestic drama is an irony. Alone is the one thing that Marko (Rakan Rushaidat, excellent) almost never is. Superb sound design throughout is particularly well used in a pre-title sequence in which we are buffeted from office to office where disinterested officials regurgitate chunks of family law and intimidating statistics. We don't even see Marko for several minutes, the better to appreciated the onslaught of information and noise from both within and outside the frame. This sets the tone for the film going forward. Marko is hectored with advice from all sides, often prefaced with the line, "I'll stay out of it. But…"
Recently divorced from his wife – who never appears – Marko finds himself living with his aunt (Snježana Sinovčić Šiškov) and uncle (Miki Manojlović), who provide the film with a bleakly hilarious double act. Life in their home is a drip feed of muttered gossip, speculation and interference. His uncle repeatedly threatens to call his well-connected friend Josic ("He was close to the president"); although what strings exactly he expects Josic to pull isn't clear. His aunt pours venom into the other ear about her own daughter, Marko's 40-year-old cousin, who has had the temerity to get herself a boyfriend. The aunt and uncle are brilliantly-judged creations: well-meaning monsters who suck the air out of the room with their whispered disapproval.
There's a restless, shifty quality to the camerawork. We are constantly peering over shoulders and through windows and doors. It gives the sense that we, like Marko, are always one step away from a crucial piece of information. This is heightened by a bold and highly effective editing style which punctuates the film, dividing it into vignettes separated with a black screen. Jelčić allows us to see enough of a scene to know that something significant or humiliating (or both) is about to happen. But we cut to black each time, forcing the audience to speculate on just how bad (and yes, they are invariably bad) the ramifications will be.
Production company: Spiritus Movens Production, De Productie, Dokument Sarajevo, Dart Film, Adriatic Western
International Sales: Media Luna festival@medialuna.biz
Producers: Zdenka Gold, Annemiek van Gorp, René Goossens, Alem Babić, Nataša Damnjanović, Vladimir Vidić, Ivan Marinović
Production Design: Željka Burić
Editing: Vladimir Gojun
Cinematography: Erol Zubčević
Music: Fons Merkies
Main cast: Rakan Rushaidat, Miki Manojlović, Snježana Sinovčić Šiškov, Lea Breyer, Vanesa Glođo, Krešimir Mikić, Dean Krivačić, Marko Makovičić, Jagoda Kralj Novak, Izudin Bajrović