Cord Jefferson's impressive debut is a portrait of a frustrated Black author played with relish by Jeffrey Wright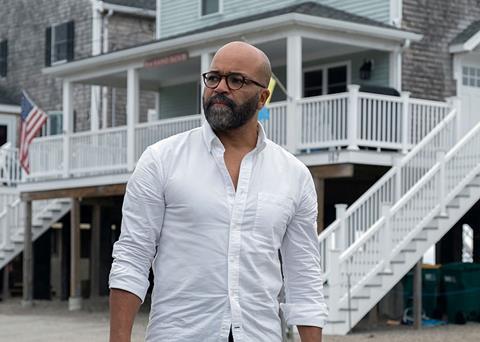 Dir: Cord Jefferson. US. 2023. 117mins
Writer-director Cord Jefferson's impressive feature debut marries two seemingly disparate genres — the family melodrama and the social satire — to tell the story of a brilliant Black author who is tired of his culture being represented in popular entertainment through crude stereotypes. To make his point, he impulsively writes a dumbed-down novel full of cliched Black characters, only to discover to his horror that the book becomes a hit.
A smart awards-season crowd-pleaser
But that's only one aspect to American Fiction, which gives Jeffrey Wright one of his most expansive big-screen roles as a man going home to confront his estranged siblings and ailing mother — and, also, the possibility of true love. The personal and professional spheres of this author's life don't always weave together seamlessly, but this is a thoughtful, and quite often very funny, look at someone struggling to be true to himself — while also learning about the ways in which he really needs to change.
Opening in the US on November 3, this Toronto Film Festival premiere is a smart awards-season crowd-pleaser. Wright will receive glowing reviews, as will an ensemble that includes Tracee Ellis Ross, Erika Alexander, Issa Rae and Sterling K. Brown. The picture's commentary on the marginalisation of Black voices in the arts will make it timely, but a touching romantic subplot and a bevy of laughs could also help lure in date-night audiences.
Los Angeles novelist Monk (Wright) has recently failed to release a new book — the main reason being that potential publishers don't think his work is "Black enough," an assertion that offends him. Angry when he sees movies and novels trading in familiar, demeaning, Black archetypes — the slave, the gangster, the inner-city kid — Monk begins to wonder if there's a place for the sensitive, more fully-realised protagonists who populate his books.
Adding to his woes, he has been asked to attend a literary festival back home in Boston, which means reuniting with his dysfunctional family. He loves his mother Agnes (Leslie Uggams), but she is showing signs of Alzheimer's, which has put a burden on his doctor sister Lisa (Ross), who has looked after their mother since their father died. Monk isn't very close with Lisa, but he has no relationship at all with his resentful brother Cliff (Brown), who has come out as gay. When a shocking death occurs, Monk is forced to spend more time in Massachusetts — although it does allow him to get to know his family's neighbour, Coraline (Alexander), whom he starts to date.
Based on Percival Everett's 2001 novel Erasure, American Fiction develops the relationships between Monk and his different family members so that we get a deeper sense of this disgruntled writer. Somewhat condescending, Monk carries himself at a remove — and he can be judgmental, as when he encounters a successful young Black novelist (Rae) who has won the nation's favour with her poverty-porn bestseller 'We's Lives In Da Ghetto'. So when he decides to write his own version of this pandering portrait of Black misery, 'My Pafology', under a pseudonym, he wants to prove how shameless and stupid this sort of exploitation is. Instead, white publishers and Hollywood producers adore ''My Pafology', hailing it as "important" and "meaningful." Monk meant for the book to be a parody, so he takes no joy in its success — especially when his 'proper' novels can't find a buyer.
These separate plot lines are a lot to juggle, and Jefferson (a writer on Watchmen and Succession) doesn't always balance them deftly. While the criticism of a white entertainment industry that favours stories of Black suffering is vital, the commentary can sometimes be repetitive and obvious, lacking the blistering anger of Spike Lee's similarly-themed Bamboozled. Interestingly, American Fiction often makes its points more persuasively when it focuses on Monk and those around him — here are fully actualised, non-stereotypical Black characters that Hollywood rarely makes time for, and they're all richly played by a superb ensemble.
Wright is melancholy and wryly amusing as an author who lets his self-righteousness get the best of him, blinding him to his inability to make connections with others — a deficiency that Coraline underlines, thanks to a lovely, grounded performance from Alexander. Also terrific is Brown as someone who found happiness later in life by finally accepting his sexuality — but who doesn't know how his family fits into that new life. American Fiction can be tender and also brutally funny, wise but also sometimes rushed in its attempts to tie up its many threads. The film is always alive with ideas and filled with compassion for its complicated characters, however. Like a good novel, it's very hard to put down.
Production companies: T-Street, Almost Infinite, 3 Arts Entertainment
International sales: MRC, jgolfman@mrcentertainment.com
Producers: Ben LeClair, Nikos Karamigios, Cord Jefferson, Jermaine Johnson
Screenplay: Cord Jefferson, based upon the novel Erasure by Percival Everett
Cinematography: Cristina Dunlap
Production design: Jonathan Guggenheim
Editing: Hilda Rasula
Music: Laura Karpman
Main cast: Jeffrey Wright, Tracee Ellis Ross, John Ortiz, Erika Alexander, Leslie Uggams, Adam Brody, Keith David, Issa Rae, Sterling K. Brown