Mohamed Diab's film interrogates the status of a Palestinian teenager whose identity is suddenly thrown into question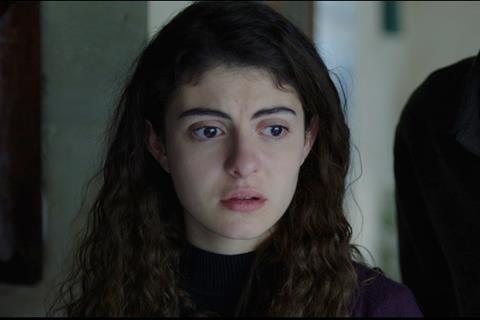 Dir: Mohamed Diab. Egypt/Jordan/United Arab Emirates/Saudi Arabia. 2021. 96 mins
Conceived from the smuggled sperm of her incarcerated father (a freedom fighter or a terrorist, depending on which side is describing him), Palestinian teenager Amira (Tara Abboud) enjoys the status of being the "daughter of a hero". All this changes when, following a failed attempt to conceive a second child through the same means, it is revealed that her father is, in fact, infertile. It's an intriguing premise, but the latest from acclaimed Egyptian director Mohamed Diab (Cairo 678, Clash) rather squanders its promise with a stridently melodramatic tone and a crude handling of its themes.
There is a blunt-weapon approach to the film's themes
It's an unexpected misfire from Diab, whose work has hitherto been warmly received internationally (if not always in his home country) and who is currently directing the Oscar Isaac-starring Marvel miniseries Moon Knight. Further festival interest is likely, even if the film could struggle to assert itself in the arthouse market.
Confident in herself and in the love of her parents, Amira is a bright and remarkably assured young woman with aspirations to be a photographer. Her photoshop skills come in handy when it comes to doctoring family photos to include her father, Nawar (Ali Suliman). Each visit she makes to see him in Megiddo Prison is marked by a gift of another picture in which she and Nawar are superimposed onto exotic backgrounds around the world. Although they have never lived together as a family, the connection between Nawar, his wife Warda (Saba Mubarak) and their daughter is genuine and loving.
Even so, when Nawar, who has recently finished a hunger strike, suggests that now might be the time to take advantage of a brief period of Israeli leniancy, and try to conceive another child, Warda is unexpectedly subdued about the idea. Amira shrilly berates her mother – her allegiance is to her father, first and foremost. "You think about yourself enough," she snaps to her mum, parroting the lines of the patriarchy.
With the bombshell revelation that Nawar can not be Amira's biological father, the spotlight falls upon Warda, who maintains a dignified silence, even as the menfolk of the family lock her in a room and vow to punish her for this as-yet unconfirmed crime. It's all rather dispiriting in its depiction of female status directly correlated to percieved purity, in its death before dishonour ethos and how it seems to be accepted without question that Amira is in some way culpable for the cloud of shame which now rests over the family. The closest we get to a dissenting voice is the teacher, a male colleague of Amira's mother, who tries to diffuse Amira's sense of shame and catastrophe, but is earmarked as a potential father for his troubles.
There is a blunt-weapon approach to the film's themes – the eventual revelation about Amira's paternity strikes at the very core of her cultural identity, but the film misses the opportunity to interrogate the idea of what actually constitutes this identity. And this heavy-handedness is reflected in the filmmaking, from the overstated sound design, to the aggressive score to the performances which tend towards the overwrought.
Production company: Film Clinic, Agora Audiovisuals, Acamedia Pictures, Taher Media Production, The Imaginarium Films
International sales: Pyramide International amauruc@pyramidefilms.com
Producers: Mohamed Hefzy, Daniel Ziskind, Mona Abdel Wahab, Moez Masoud, Hany Abu-Assad, Amira Diab, Sarah Gohar, Rula Nasser, Eric Lagesse
Screenplay: Mohamed Diab, Khaled Diab, Sherin Diab
Cinematography: Ahmed Gabr
Editor: Ahmed Hafez
Production Designer: Nael Kanj
Music: Khaled Dagher
Main cast: Saba Mubarak, Ali Suliman, Tara Abboud, Waleed Zuaiter, Ziad Bakri, Suhaib Nashwan, Reem Talhami