Roman Polanski and Robert Harris have collaborated on a sober film about The Dreyfus Affair; it looks set to become a sturdy international performer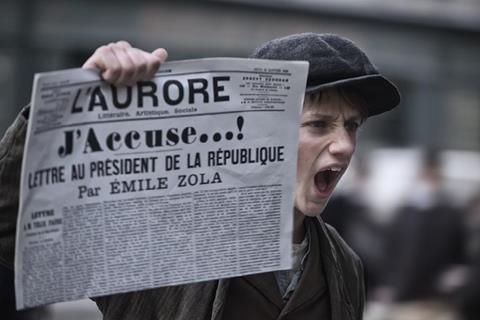 A story of injustice and intolerance, An Officer And A Spy (J'Accuse) recounts the Dreyfus Affair not with passion and fury but, rather, sober deliberation, meticulous detail and emotional restraint. Jean Dujardin is quietly excellent as the French officer whose growing conviction that Alfred Dreyfus (Louis Garrel) is innocent of treason puts him on a collision course with his superiors. The Oscar-winning actor provides the film with its soulful centre, despite the familiarity of the material and its procedural tone.
Polanski's intelligent, unfussy approach constantly elevates the straightforward treatment
Slated for release in France and Italy in November, this Venice premiere will draw considerable attention because of its director, Roman Polanski, whose past sexual crimes have received fresh attention in the wake of #MeToo and his decision to sue the Academy of Motion Picture Arts and Sciences for its decision to expel him. It's impossible to watch An Officer… and not speculate about what aspects of this story might resonate with Polanski — specifically, its depiction of anti-Semitism and a world in which a man must fight to clear his name. But putting aside his possible personal connection to this oft-told true story, the film's accessible courtroom-drama qualities (as well as its French stars) could make it a sturdy international performer. (And, indeed, another movie that chronicled these events, 1937's The Life Of Emile Zola, went on to win Best Picture.)
An Officer starts in 1895 with the stripping of Alfred Dreyfus' military rank, as he is sentenced to life in prison for spying for the Germans. As this Jewish soldier is sent away in disgrace, Georges Picquart (Dujardin), who was involved in the investigation, is promoted to head the nation's counter-intelligence program, only to find documents that suggest someone else might have been the culprit.
Polanski mostly eschews theatrics, eliciting from Dujardin a performance full of sombre precision. An Officer establishes early on that Picquart dislikes Jews, although in a flashback scene he insists to Dreyfus that he doesn't let his personal feelings impede his judgment. In a lesser film, that setup would set the stage for a clichéd character arc in which Picquart learns the error in his ways by freeing the falsely accused man. An Officer has no interest in cheap sentimentality, simply presenting Picquart as a model of clearheaded thinking who pursues Dreyfus' innocence because it's the proper thing to do.
Much to Picquart's dismay, though, he'll discover that those up the chain of command want the matter buried — particularly the arrogant Général Gonse (a marvellously contemptuous Hervé Pierre) — and Dujardin coolly calibrates each of his character's chess moves. An Officer has a steady, unhurried pace, with Polanski investing each small moment in Picquart's investigation with its own modest drama, but Dujardin adds intrigue because of this officer's resilient decency. Picquart will eventually realise what happens when someone dares expose a systematic cover-up, and the actor's unwavering calm proves heroic amidst this sea of sharks. (That said, a subplot involving his on-going affair with a married woman, played by Emmanuelle Seigner, doesn't add much depth to this stoic figure.)
An Officer leaves Dreyfus off-camera for most of the runtime — Garrel is suitably sympathetic — studiously following Picquart as he tries to present evidence that another officer is the spy. Much of the film's suspense comes from watching how an investigation — and, later, a court case — would play out at the time. The film, which was written by Polanski and Robert Harris, drawing from Harris' 2013 book (they worked in the same way on 2010's The Ghost Writer), makes a virtue of its attention to detail. That proves to be essential when, often, the plot mechanics aren't as fascinating as the world An Officer plunges us into.
Even those unfamiliar with the Dreyfus Affair will recognise the familiar cinematic premise of a virtuous hero battling, against long odds, to prove that a marginalised individual has been unfairly incarcerated. There's predictability and also cosy comfort in knowing that Picquart (and Dreyfus) will emerge triumphant, but Polanski's intelligent, unfussy approach constantly elevates the straightforward treatment.
Working again with cinematographer Pawel Edelman and composer Alexandre Desplat, the director gives us a late-19th century France in which moral darkness seems to be fast descending — also explored previously in The Pianist and his Oliver Twist adaptation. There will be a temptation to ascribe certain motivations to Polanski's decision to film a movie about a horrible miscarriage of justice. But, interestingly, from the evidence on screen — especially during a nicely bittersweet coda — the director seems fairly wary about how liberating exoneration truly is.
Production companies: Legende, R.P. Productions
International sales: Playtime, fry@playtime.group
Producer: Alain Goldman
Screenplay: Robert Harris, Roman Polanski, based on the book by Robert Harris
Production design: Jean Rabasse
Editing: Hervé De Luze
Cinematography: Pawel Edelman
Music: Alexandre Desplat
Main cast: Jean Dujardin, Louis Garrel, Emmanuelle Seigner, Grégory Gadebois